Scroll down for Spanish translation
(DESPLAZARSE HACIA ABAJO PARA LA TRADUCCIÓN AL ESPAÑOL)
By Sophie Theis and Alexandre Berthaud
To promote savings for group loan clients in Mexico, Women's World Banking designed a solution integrated into the Compartamos group loan model. In this blog, we share lessons learned from user testing on building savings behavior into the structure and relationships of the group loan.
The group lending model, where, if one group member defaults on a payment, the rest of the group covers the default, underpins the entire microfinance industry.  Group lending has made it possible for borrowers to access credit through joint liability, which also benefits lenders as it tends to yield high repayment rates while mitigating risk of individual defaults. This has enabled many financial service providers in emerging markets to extend credit to otherwise riskier, low-income borrowers, especially women.
While group lending has effectively extended access to credit to millions of women around the world, this model could do more, beyond loans, in service of women's financial inclusion. As members build trust with one another and strengthen their relationship with the lending institution over time, lending groups can be a strong platform for delivering additional financial and non-financial services. In Mexico, Women's World Banking worked with Banco Compartamos to investigate whether, and how, we might extend the Mexican group lending model to provide an opportunity for individual savings, particularly through peer support, to motivate savings behavior.
Why savings?
The premise, confirmed throughout our initial customer research, was that Compartamos' group loan clients in Mexico were already saving money, anywhere between 5 and 10 USD per week. However, they were largely doing so informally—perhaps in a box at home, in rotating savings and credit associations called tandas, with a neighbor as part of a caja de ahorro, or in a tangible asset, often business supplies.
Although these informal saving methods work for women, they come with risks. Cash in a box can not only be lost or pilfered by a family member, it is also hard to resist dipping into. As one woman put it, "If I leave my savings at home, it is not saving." Tandas offer little more security, as members can abscond with the funds. Cajas de ahorro typically offer a 10 percent interest rate to savers, as the "administrator" profits by giving out short-term loans from the fund, but if borrowers default, there is a risk that the savings are not returned. Tangible assets are harder to dip into or abscond with (although could be stolen), but harder to liquidate in times of need. Their value could also depreciate.
In contrast, a formal savings account provides greater security to women in several ways. First, the money cannot be touched by anyone but the accountholder. Linking the account to a debit card enables a level of security outside the home, which is important in parts of Mexico. Although the interest rates do not promise much growth, the assets do not risk depreciating, and the funds are easily accessible if needed.
Building individual savings into the group lending structure:
We decided to look at whether we could piggy-back on some of the group lending model behaviors to create opportunities to effect behavioral change to encourage savings behavior. For example, in Mexico, most institutions do not allow field officers to carry cash, and so group members are usually required to meet and give a group representative their loan repayment. That person travels to the bank or agent to make payment on behalf of the group, so why not use the same process to establish a group savings model?
The weekly face-to-face meetings and strong trust among members could become a platform for peer pressure to encourage savings, while the trip to the bank could also be an opportunity to deposit individual savings on behalf of group members, reducing the time and hassle to save. Finally, matching the individual savings process with a well-known 16 week lending cycle could structure the clients' savings habit.
However, our research pointed to a number of challenges in promoting an individual savings product built on a group lending structure.
First, some women were concerned that if others in the group saw how much they were able to save, the group would call on them to pay solidario (i.e. cover other group members' loan repayments when they were unable to pay).
Second, there was a significant lack of awareness about savings at Compartamos. Clients associated the institution with loans. Few had ever had a formal savings account before and either did not understand the purpose or function of a formal account or were not aware they had one, even though all loan recipients automatically receive a bank account. Most saw the account and the card only as a tool to collect their loan.
Third, while it seemed to offer greater efficiency, giving the group representative the individual members' savings as well as the group's loan repayment, created additional security risk. Several clients mentioned they did not want to be responsible for transporting large sums of money to the bank for fear of robbery or violence. An underlying fear might also be that the representative had more reason to be tempted to abscond with the money.
Building an individual savings mindset—within a group
To address some of these opportunities and issues, Women's World Banking designed a solution for personal savings with Compartamos and evaluated it with end-users—32 clients and staff. It comprised a simple form (see image) which individual women completed, detailing their name, personal commitment to savings, and timetable.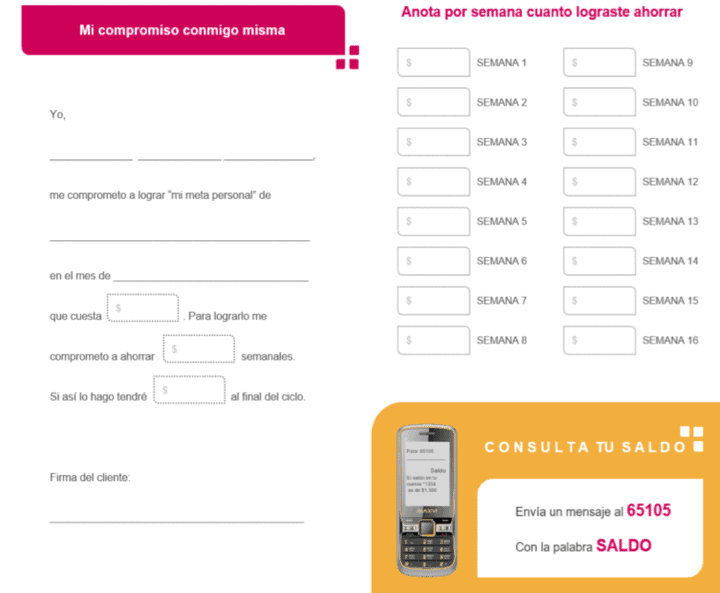 Ultimately, user testing surfaced four main lessons about how to build an individual savings product for group loan clients:
The personal commitment needs to be truly personal:
We found that women responded well to making a commitment to themselves on the form,   ("mi compromiso conmigo misma") and setting a personal goal ("mi meta personal"). However, in the initial prototype, women pointed out they only had enough space to write their first name. They asked to be able to write their full name, which felt more formal as well as personal to them. As one woman pointed out, "I know a lot of Marias!" Women also wanted space to sign the form, so that it felt like a contract. "This is my commitment to myself," one woman explained. "I have to do it."
Women want to be as specific as possible with their savings goal to motivate savings:
Our findings in Mexico confirmed the well-known link between goal setting and increased savings balances. Women gave feedback that the form should make the goal very concrete. One woman emphasized the value of a specific savings goal: "This is very important because sometimes we only save to save. But if we think about something that we care about—maybe for our kids, our house, or a vacation— well, I am going to save!"In response, we designed the form to guide women to calculate (sometimes with help from their peers or the group promoter) how much they needed to save weekly in order to reach a certain goal—for example, to buy a computer for a child, or go on a family vacation. Women could keep track of how much they were able to save each of the 16 weeks of the loan cycle. Even with limited numeracy and literacy, women wanted to be able to articulate exactly what they were saving for and when they would get there. We strictly followed the same calendar as the group loan to structure the savings habit into weekly deposits that would last 16 weeks.
We need to emphasize that though savings may be channeled through the group, the savings account is individual:
Introducing an individual product into a group model was confusing for some clients, who did not understand immediately if the savings account was for an individual or the group. Indeed, at Compartamos groups already save collectively in a group savings account or at a member's home in order to cover solidario (payment default)

. We found it important to clarify that this was an individual account that only the one client could access, and reinforce this message through the way the frontline staff introduced the product. Transparency about how the money was collected from clients, an SMS notification when money was deposited into their account, and the option to check the balance via SMS at any time was also reassuring. In addition, it helped to mentally link this new account and women's informal savings options, which are understood as private and individual.
Not all groups want to continue to have a representative bring cash to the bank or agent.
Some aspects of the group lending model are already shifting in response to security risks and as digital communication and mobile banking become more prevalent. To mitigate risks of carrying cash, financial institutions might consider an insurance policy to pair with the savings product that protects against theft en route

to the bank or an SMS notification for all group members that verifies when their money has been safely deposited.
Informal saving bears inherent risk, continued exclusion from the larger financial system, and a missed opportunity to augment financial security for women. However, learning how to use a new savings account, trusting an institution with hard-earned savings, and taking action to save routinely are difficult behavior changes.
In lending groups like Compartamos', women meet regularly, have high levels of trust and turn to each other for help and advice. When combined with savings triggers such as goal-setting, commitment devices, and tracking of deposits, these group relationships can be powerful in generating the confidence, capacity, and motivation required to build and sustain new savings habits.
Women's World Banking's work with Compartamos is generously supported by Visa Foundation.
Adaptando el modelo de préstamo grupal para el ahorro individual: Lecciones de las pruebas de usuario en México
Sophie Theis y Alexandre Berthaud
Para promover el ahorro con los clientes de préstamos grupales en México, Women's World Banking diseñó una solución integrada al modelo de préstamos grupales de Compartamos Banco. En este blog, compartimos las lecciones aprendidas de las pruebas de usuario sobre cómo incorporar el comportamiento del ahorro individual en las estructuras y las relaciones del préstamo grupal.
El modelo de préstamos grupales, dónde, si un miembro del grupo no realiza un pago (normalmente semanales), el resto del grupo debe cubrir el incumplimiento para poder completar entre todos el monto total del pago, este modelo ha sido el fundamento de toda la industria de las microfinanzas. El préstamo grupal, al compartir la responsabilidad del pago entre los participantes del grupo, ha hecho posible el acceso a créditos para personas de bajos ingresos. Esto también beneficia a las instituciones, ya que tiende a generar altas tasas de repago al tiempo que mitiga el riesgo de impagos. Esto ha permitido que muchos proveedores de servicios financieros en mercados emergentes, extiendan el crédito a mercados de mayor riesgo, como las personas de bajos ingresos, especialmente las mujeres.
Mientras que los préstamos grupales han ampliado el acceso al crédito a millones de mujeres en todo el mundo, este modelo podría hacer más, más allá de los préstamos, al servicio de la inclusión financiera de las mujeres. A medida que los miembros crean confianza entre ellos y fortalecen su relación con la institución financiera a lo largo del tiempo, los grupos de crédito pueden ser una plataforma sólida para brindar servicios financieros y no financieros adicionales. En México, Women´s World Banking trabajó con Compartamos Banco para investigar la factibilidad de apalancar el modelo de créditos grupales a fin de ofrecer ahorros individuales, particularmente se buscó incentivar el ahorro a través de la motivación colectiva.
¿Por qué ahorrar?
 El estudio de comportamiento de clientes, confirmó que los clientes de crédito sí ahorran, entre 5 y 10 USD por semana. Sin embargo, ahorraban en gran medida de manera informal – algunas en un sobre o una caja de zapatos en casa, en esquemas de ahorro grupales llamados "Tandas", con un vecino, o en un activo tangible, a menudo negocio (mercancía).
Aunque estos métodos informales de ahorro funcionan para las mujeres, vienen con algo de riesgo para ellas. El dinero guardado en efectivo en un sobre puede no sólo ser perdido o robado, hasta por un miembro de la familia, sino que también es difícil de resistir el usar poco a poco ese dinero. Una clienta lo verbalizó de la siguiente manera, "Si dejo mis ahorros en casa, no es ahorro." Las Tandas ofrecen un poco más de seguridad; sin embargo, si la organizadora de la tanda decide fugarse con el dinero, todos los participantes pierden su ahorro.
Por su parte, las cajas de ahorro informales organizadas entre vecinos generalmente ofrecen una tasa de interés del 10 por ciento a los ahorradores, ya que el "administrador" se beneficia al otorgar préstamos a corto plazo del fondo a terceros; pero si alguien no le paga, existe el riesgo de que no se devuelvan los ahorros con el interés; en todos los casos, el dinero se entrega a los ahorradores hasta el mes de diciembre.
Los activos materiales son más seguros, pero más difíciles de usar de forma parcial. No obstante, pueden ser robados, es más difícil hacerlos líquidos en una emergencia y al paso del tiempo van perdiendo su valor.
Por el contrario, un ahorro formal en una cuenta de ahorro, provee la mayor seguridad a las mujeres de distintas maneras. Primero, el dinero no puede ser tocado por nadie más que por el titular de la cuenta. Al vincular la cuenta con una tarjeta de débito, los fondos son fácilmente accesibles si es necesario y ofrece un nivel de seguridad fuera del hogar, lo cual es importante en algunas partes de México. Aunque las tasas de interés no prometen retornos altos, los activos no corren el riesgo de depreciarse.
Incorporar el ahorro individual en la estructura de préstamos grupales:
 Decidimos mirar si podríamos emplear en algunos de los modelos de comportamiento del préstamo a grupos para crear un cambio en las costumbres de ahorro de las mujeres para fomentar el ahorro formal. Un punto a considerar es que, en México, por seguridad de los empleados la mayoría de las instituciones no permiten que los oficiales de campo puedan llevar dinero en efectivo, por lo que se suele citar a los miembros del grupo en un lugar para que un integrante sea el responsable de realizar el pago del crédito; esa persona viaja al banco o corresponsal para realizar el pago en nombre del grupo; entonces, ¿por qué no utilizar el mismo proceso para establecer un modelo de ahorro grupal?
Las reuniones semanales y la fuerte confianza entre los miembros, podría convertirse en una plataforma para fomentar el ahorro individual en el grupo, mientras que el traslado al banco sería la oportunidad para depositar los ahorros de forma individual a nombre de cada miembro del grupo, logrando así reducir el tiempo y molestias para ahorrar en el banco. Adicionalmente, el unificar el ahorro con las 16 semanas del crédito, puede estructurar a las clientas para generar un hábito de ahorro.
Sin embargo, nuestra investigación señaló una serie de desafíos en la promoción de un producto de ahorro individual basado en una estructura de préstamo grupal.
Primero, a algunas mujeres les preocupaba que si otras personas del grupo veían cuánto podían ahorrar, el grupo les pediría que pagaran ellas el solidario (es decir, que cubrieran las cuotas de los préstamos de otros miembros del grupo cuando no podían pagar).
En segundo lugar, hubo una importante falta de conciencia y comunicación sobre los ahorros en Compartamos. Los clientes asociaban la institución con préstamos. Pocas clientas habían tenido una cuenta de ahorro formal, por lo que la mayoría no entendía el propósito o función de una cuenta formal o no eran conscientes de que ya tenían una, a pesar de que muchas recibían su crédito por medio de su cuenta bancaria. La mayoría no eran conscientes que tenían una cuenta, pero si la tarjeta. Veían la tarjeta como la forma para cobrar su préstamo.
En tercer lugar, si bien parecía ofrecer una buena eficiencia, dar al representante del grupo los ahorros de los miembros individuales y el pago del préstamo del grupo, generaría un mayor riesgo adicional de seguridad. Varias clientas mencionaron que no querían ser responsables de transportar grandes sumas de dinero al banco, por temor a los robos o violencia en la zona. Un temor subyacente también podría ser que la representante del grupo pudiera fugarse con el dinero del crédito más los ahorros de los integrantes del grupo.
Desarrollar una mentalidad de ahorro individual dentro de un grupo
Para abordar algunas de estas oportunidades y problemas, Women's World Banking diseñó una solución para ahorros personales con Compartamos y la evaluó con usuarios finales: 32 clientes y personal del banco. Comprende un formato simple (ver imagen) que las mujeres de forma individual tenían que completar, detallando su nombre, compromiso personal (motivo del ahorro) y el monto semanal.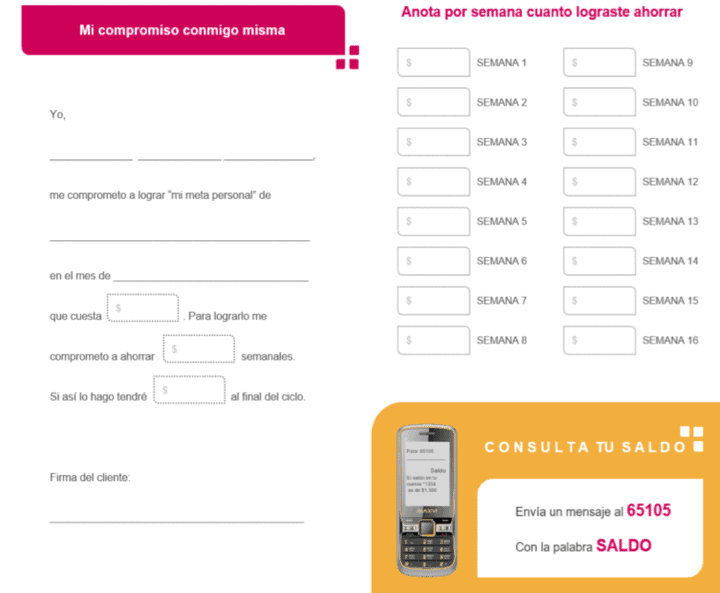 Al final de las pruebas de usuario, se obtuvieron cuatro principales lecciones sobre cómo construir un producto de ahorro individual para los clientes de créditos grupales:
El compromiso personal debe ser verdaderamente personal:
Descubrimos que las mujeres respondieron bien al comprometerse con ellas mismas en un formulario ("mi compromiso conmigo misma") y establecer una meta personal ("mi meta personal"). Sin embargo, en el prototipo inicial, las mujeres señalaron que solo tenían suficiente espacio para escribir su primer nombre. Pidieron poder escribir su nombre completo, lo que les pareció más formal y personal. Como señaló una mujer: "¡Conozco a muchas Marías! "De forma adicional, las clientas también querían espacio para firmar el formulario, por lo que lo sentían como un contrato. "Este es mi compromiso conmigo misma", explicó una mujer, "tengo que cumplirlo."
Las mujeres quieren ser lo más específicas posible con su objetivo de ahorro para motivarse:
Nuestros hallazgos en México confirmaron la relación ya establecida en otros estudios entre la fijación de objetivos y el aumento de los saldos de ahorro. Las mujeres puntualizaron que el formulario debería hacer que la meta sea muy concreta.Una mujer reforzó el valor de tener una meta de ahorro específica: "Esto es muy importante porque a veces solo ahorramos para ahorrar. Pero si pensamos en algo que nos importa; tal vez para nuestros hijos, nuestra casa o unas vacaciones, ¡bueno, voy a ahorrar!"En respuesta, diseñamos el formulario para guiar de una forma más ordenada a que las mujeres pudieran calcular su ahorro (a veces con la ayuda de otros miembros del grupo o del promotor del grupo) respecto a cuánto necesitaban ahorrar semanalmente para alcanzar su meta; por ejemplo, comprar una computadora para su hijo(a), o ir de vacaciones en familia.Las mujeres podían hacer un seguimiento de cuánto estaban ahorrando en cada una de las 16 semanas del ciclo de préstamo. Incluso con conocimientos limitados de matemáticas y en algunos casos no sabían escribir o les costaba mucho trabajo, las mujeres querían poder expresar exactamente para qué estaban ahorrando en su compromiso y cuándo cumplirían su meta. Seguimos estrictamente el mismo calendario que el préstamo grupal para fortalecer y estructurar el hábito de ahorro en depósitos semanales que durarían 16 semanas.
A pesar de que los ahorros pueden ser canalizados a través del grupo, el ahorro es individual:
Introducir un producto individual en un modelo grupal fue confuso para algunos clientes, que no entendieron de inmediato si la cuenta de ahorros era para ellas o del grupo. Aunado a esto, en Compartamos los grupos ya ahorran colectivamente en una cuenta de ahorro grupal o en la casa de un miembro para cubrir el solidario 

(por el incumplimiento de pago de uno o más miembros)

.

Encontramos que es importante aclarar que se trataba de una cuenta individual y que sólo la clienta tiene acceso a ella, así como el reforzar el funcionamiento del producto a través de la fuerza de ventas (personal de Compartamos).

Entre los puntos importantes que brindan confianza cabe mencionar la transparencia acerca de cuánto dinero se entregó para el ahorro, una notificación por SMS cuando el dinero estuviera depositado en la cuenta, así como la opción de consultar el saldo de forma remota (por SMS) en cualquier. Además, ayudó a vincular mentalmente la cuenta y las opciones de ahorro informal de las mujeres, que se entienden como privadas e individuales.
No todos los grupos desean continuar haciendo que un representante tenga que llevar el efectivo al banco o agente.
Algunos aspectos del modelo de préstamo grupal ya están cambiando en México, en respuesta a los riesgos de seguridad y a medida que la comunicación digital y el uso de la banca móvil se vuelven más frecuentes. Para mitigar los riesgos de llevar grandes sumas de efectivo que en caso de robo pongan en peligro al grupo por incumplimiento, las instituciones financieras pueden considerar una póliza de seguro para combinar con el producto de ahorro que proteja contra el robo en el camino al banco o una notificación por SMS para todos los miembros del grupo que verifique cuándo el dinero ha sido depositado de manera segura.
El ahorro informal conlleva un riesgo inherente, la exclusión del sistema financiero y la pérdida de una oportunidad para aumentar la seguridad financiera de las mujeres. Sin embargo, aprender a usar una cuenta de ahorro, confiarle a una institución los ahorros que se han ganado con esfuerzo y tomar una decisión de ahorro formal de manera rutinaria son cambios de comportamiento difíciles de lograr.
En grupos de crédito como los de Compartamos, las mujeres se reúnen regularmente, tienen altos niveles de confianza entre ellas y recurren a su grupo para obtener ayuda y asesoramiento. Pero cuando se combina con el ahorro, estableciendo metas personales y contando con los elementos adecuados para el seguimiento de los depósitos; esta relación grupal puede ser más poderosa, generando mayor confianza y motivación para generar nuevos hábitos de ahorro formal.
El trabajo de Women's World Banking con Compartamos contó con el generoso apoyo de Fundación Visa.