To fulfill our mission to increase access to meaningful financial products and services for low-income women, Women's World Banking often finds itself in a position of working with a financial institution to introduce a new product to the institution's portfolio. New products mean change, and change, no matter how exciting, always comes with some anxiety and trepidation. For financial institutions traditionally in the business of credit and savings, getting staff buy-in for an insurance is extremely challenging.
Why is insurance so difficult to sell to clients and staff?
The simple answer? Insurance does not give the instant, guaranteed gratification a loan does! The concept of paying upfront for a service that one may or may not use in the future is difficult to comprehend and explain. For example, in the case of health microinsurance, a client will have to pay premium regularly, but she will receive any money if and only if she falls sick within a defined time period and her condition is covered under the plan. What happens to her money if she does not fall sick? Well, that's a million-dollar question which can stump even the most proficient salespersons! This difficulty is compounded for institutions serving the low-income market: this population has very limited awareness of insurance and generally carry negative perceptions about it.
Imagine a simple loan officer from a microfinance institution who has been selling credit products to her clients throughout her career. Credit is easy to sell: clients receive visible hard cash upfront. A typical day of a loan officer is spent in the field, meeting clients and enrolling new ones for her credit portfolio, which usually numbers in the hundreds. What's more, she has to build a personal connection with each client and has to ensure that they are satisfied with her services. If that loan officer is asked to sell mandatory insurance to all her clients, it would mean that she has to spend extra time per client, convincing them to pay for something that even she is not sure will work for them. Not only is it extra work for her, she also faces the risk of losing her clients if they don't want to buy insurance with loan.
If they are not convinced, it is lose-lose for all!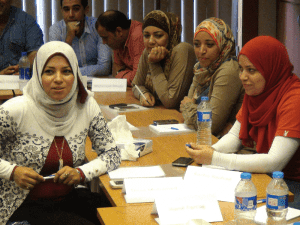 Women's World Banking's experience has found that if the staff is not convinced about the insurance product, the clients will not understand the value of the product well. The product will remain underutilized no matter how meaningful and affordable it is. If the clients don't use the product, it will be difficult to scale-up, making the entire program difficult to sustain in the long-term. Your staff's lack of understanding leads to depriving clients of what is actually a good benefit!
We have observed most insurance training programs emphasize explaining technical details such as product features and processes, the "what" and "how" of insurance. Some training programs also focus on client objection handling. Across different countries, we have found that loan officers are very adept and can understand the nuances of a complex product very well. They are also able to translate those technical details into simple, sellable features of the product.  Where they struggle the most is in getting the motivation to sell insurance to their clients. The topic most of the training programs do not delve in detail is the value of insurance for the institutions, staff and clients – the core of the program, the "why".
Demonstrate the value of insurance to staff
The "why" of insurance is about conveying its importance from the organization's strategy point of view. Insurance, if designed and delivered well, creates a solid competitive advantage for financial institutions. It's also an opportunity for the institutions to offer a risk management tool to clients. It can help them smoothen cashflow during financial emergencies, without incurring additional debt or risk dipping into their hard-earned savings. Women's World Banking's research on Microfund for Women (Jordan) health microinsurance product Caregiver demonstrated that clients who have benefited from Caregiver tend to pay their loan installments on time.
To demonstrate the "why" of insurance, training must communicate the strategic importance of insurance to the organization and translate this to the critical personal benefits to the loan officer. For instance, when her clients have insurance:
they will continue to pay back the loan installments even in situations of financial emergencies. This will result in a healthy PAR (portfolio at risk) for te officer's portfolio.
a healthy PAR would result in better incentives, and
an opportunity to demonstrate the organization's commitment to the welfare of the clients and strengthen their personal relationship with the clients.
Life after training
The role of trainers doesn't end with the delivery of training modules. Trainers should ensure that the trainees have understood the concept well and feel confident enough to sell the product. The training delivery process is a continuous cycle which includes collection of feedback from the trainees, monitoring individual and branch level performance over time to identify key gaps and then refine the training program to address those gaps and provide refresher training on a regular basis.
Staff training is an effective tool in an institution's change management toolkit. If it is done well, it addresses the discomfort and anxiety brought about by change head-on. Good training programs for new product introductions help staff understand the new product, give them exactly what they need to sell this product and link the new product to the bigger picture of their job and the institution's business.