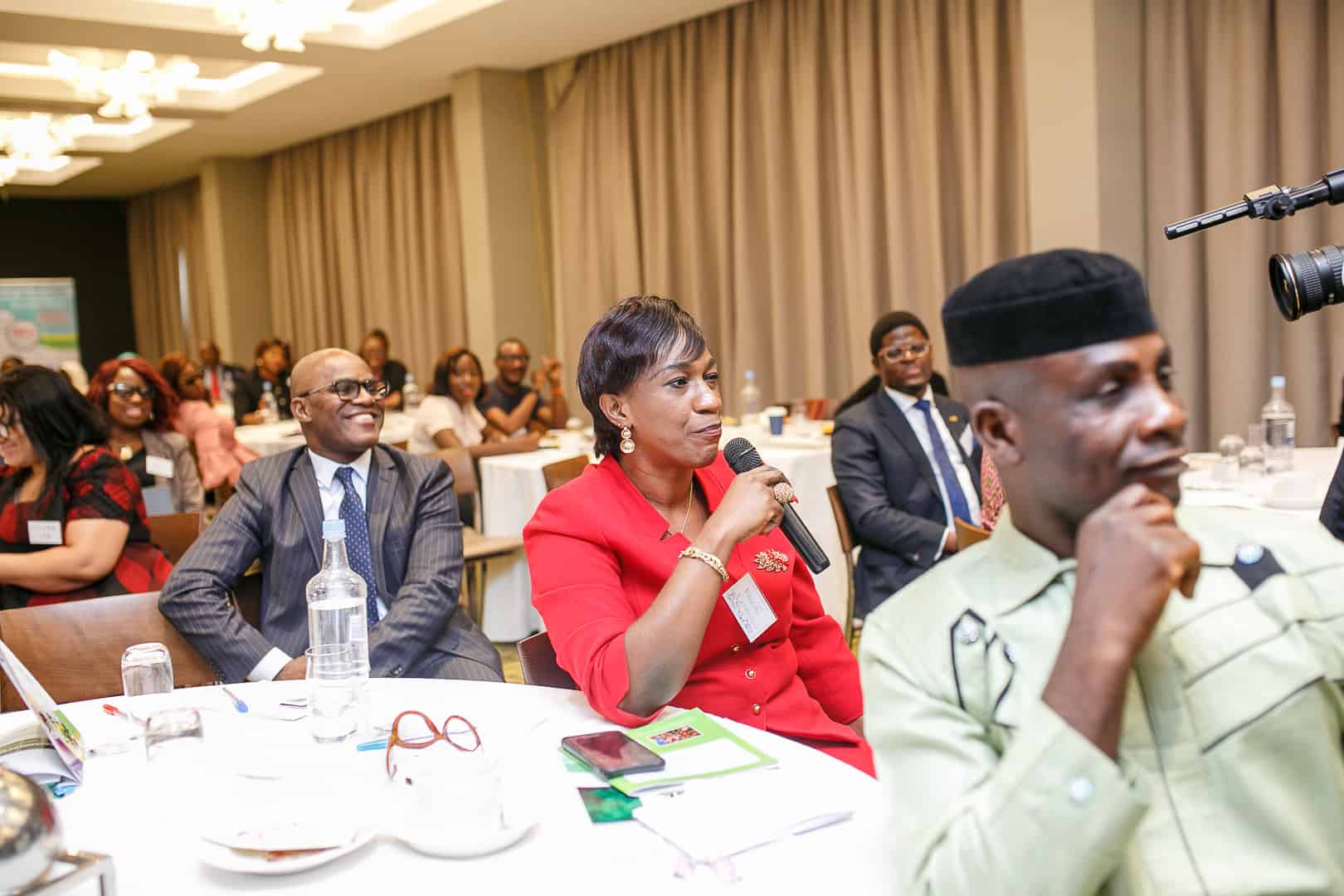 This post was written in collaboration with CBN
In January this year, the Central Bank of Nigeria (CBN) unveiled the revised National Financial Inclusion Strategy (NFIS 2.0). NFIS 2.0 has set a target of a national exclusion rate of 20% by 2020 (down from 46.3% in 2010). In order to help drive the CBN's efforts to reduce Nigeria's exclusion rate, Women's World Banking collaborated with CBN and Financial Inclusion Secretariat (FIS) with support from the Bill & Melinda Gates Foundation to convene key stakeholders from the public and private sectors at a one-day Making Finance Work for Women: Digital Financial Inclusion round-table discussion in Nigeria that would address the challenge of closing the financial inclusion gender gap.
Nearly 100 people attended the interactive workshop in total, designed to encourage brainstorms, create partnerships and chart the way forward. Government representatives included Honorable Minister of Women Affairs and Social Development represented by the Permanent Secretary; the Deputy Governor, Financial System Stability (FSS), Director, Risk Management, Director, Development Finance from the CBN.
In his opening remarks, Ade Ashaye, Executive Vice President of Women's World Banking's Network, shared that while a global financial gender gap of 9% still persists, countries like India have been able to reduce this to 6%. Closing the gender gap poses a significant market opportunity in developed and developing economies as it could generate as much as $40 Billion in annual global revenue, Ashaye pointed out. He further stated that digital inclusion offers a potential solution for improving women's financial inclusion as two-thirds of unbanked women have a mobile phone, and in Nigeria, roughly 20 million (or 57%) of unbanked women have a mobile phone.
The Chief Executive Officer (CEO) of EFInA, Mr. Esaie Diei provided highlights of the regional and age distribution of women in Nigeria. He concluded by sharing that a full report on an assessment of Women's Financial Inclusion in Nigeria would be available by August 2019. Ms. Kate Webster (Executive Vice President, Women's World Banking) spoke about focusing on three key Financial Inclusion targets for Nigeria: population (% of financially included adult Nigerians), channels (agents) and product (credit) and shared global lessons learned about working towards achieving these targets. Her presentation immediately preceded the case study discussions, which focused on agent networks and access to credit, particularly for women. Women's World Banking, with support from Lagos Business School, presented a case study on Jazz Cash in Pakistan. Next, Taiwo Ajetunmobi from Bank of Industry presented on GEEP in Nigeria, and Women's World Banking discussed the BETA proposition in Nigeria as well.
The case studies were discussed in groups of eight. Stakeholders were assigned seats prior to the event to ensure that diverse institutions were represented at each table, ensuring diverse perspectives and conversation.
Stakeholders discussed topics such as what an agent-focused solution should look like to reach rural low-income women in Nigeria and how financial service providers could ensure that credit products reach that target segment.  The solutions needed to cover the enabling environment, partnerships, distribution channel(s), and use cases and awareness building. A representative from each table subsequently delivered the outcomes to the wider group. The main takeaways included:
Create a centralized data repository to guide policy propositions: In order to provide an appropriate environment for sustainable access to finance by women, existing policies of the CBN should provide the opportunity for a centralized data repository to guide policy propositions. Furthermore, women in Nigeria should be categorized/segmented to develop a comprehensive view of financial needs. For instance, skilled/unskilled, educated/uneducated, married/unmarried, rural/urban etc. and develop tailor-made products for each of these groups; the youth populace should not be left out in this segmentation.
Partnerships are key: It is important to forge partnerships with relevant stakeholders, including the National Orientation Agency, Civil Society of Nigeria, health centers, and fast-moving consumer goods companies (FMCGs) like Coca Cola. Women's groups, traditional rulers and religious leaders, business leaders, educators, the creative industry, banks, security agencies, health maintenance organizations (HMOs), Ministry of Health, Securities and Exchange Commission (SEC), and National Insurance Commission (NAICOM) are other examples of key players.
Identify local champions: Women's financial inclusion champions should be appointed in relevant institutions to drive efforts on existing platforms, such as unstructured supplementary service data (USSD) in local languages, post offices and Local Government Agencies (LGAs).
Leverage diverse channels to reach women: The following channels should be tenaciously pursued and popularized to increase women's access to finance: Digital Financial Services, women's groups, traditional and religious institutions, midwives, agents, Telecommunications Companies (Telcos), cooperatives, microfinance banks, radio jingles in local languages, town hall meetings, television adverts, and social media. Notably, for women in the rural areas, health boards and health centers in communities should also educate women on financial inclusion.
Bundle products: There should be the bundling of financial products tailored to women, such as: credit, savings and insurance in targeted outreach programs.
Highlight women leaders: Women in relevant influential positions should be leveraged to pass on the message of financial inclusion, e.g. female principals, female entrepreneurs working in corporate value chains and market women associations.
Convening workshops with banking professionals and policymakers yields perspectives and tactics that better unite financial inclusion efforts across industries and sectors. Women's World Banking hopes to host more events like this one moving forward. Thank you to the Bill & Melinda Gates Foundation for their support, CBN for their collaboration, FIS for co-hosting, EFInA and BOI for co-presenting, and the Lagos Business School for helping to facilitate the conversation.