This is the second in a three-part series examining a fresh approach to digital remittances in Indonesia.
By Angela Ang, Elwyn Panggabean, and Ker Thao
For domestic workers in Indonesia, remittances provide a critical means of support for their families. As we noted in our first blog, domestic workers need secure and guaranteed delivery of funds when choosing a remittance channel; however, many end up choosing informal and risky channels (for example, through merchants and in cash with people who travel back home), which can lead to theft and fraud. As such, Women's World Banking partnered with DANA, one of Indonesia's largest e-wallet providers, to develop a digital remittance solution for domestic workers to safely send money to their families and to increase their engagement with formal financial services.
Understanding what's most important for domestic workers and their recipients
To aid in the design and delivery of our digital remittance service, we conducted in-depth interviews to understand the barriers, challenges, and needs of domestic workers in Indonesia when selecting and using remittance channels and services. Despite their frustrations with current remittance channels and services (through cash, counters, and informal channels), domestic workers perceive these as the only options available to them. When we asked domestic workers what an ideal remittance service would look like, they reported a service that is fast and easy to use, reliable, and accessible (both for them and their recipients):
Fast and easy: Domestic workers are time-poor and desire a service that provides fast and easy transactions, with nearby easy-to-access service touchpoints. Additionally, they would like a service that makes funds instantly available for recipients, one that is easy to transact with and requires few steps, and one with shorter processing times, allowing workers to maximize their free time.
Reliable: Workers are sending large lump sums of cash home and prefer a service that can guarantee delivery with low risk of theft and fraud. Some have reported choosing a channel with higher service fees for the sake of faster, guaranteed delivery of their funds as compared to cheaper, slower methods.
Accessible: Because many workers' families live in rural and remote areas of Indonesia, a service with accessible touchpoints for cash-out is essential. A service that is easy for digitally and tech illiterate customers creates less hassle for the cash-in and cash-out process.
Key barriers and challenges to digital remittances for domestic workers
An e-wallet service and platform can provide a remittance channel that is fast and easy, reliable, and accessible for both senders and recipients. Moreover, it can provide customers with their first formal account in the form of e-wallets and build their financial and digital financial capabilities, allowing them to become complex and multi-case users. But to boost inclusivity in the e-wallet market, we must first address domestic workers' most common barriers and challenges in using e-money and digital wallets as a remittance channel:
Complex/complicated sign-up process: Workers need assistance to complete the registration process, especially with digital verification procedures such as e-KYC (know your customer)
Lack of access to internet/data: Poor infrastructure in remote areas creates connectivity issues or lack thereof, preventing senders and recipients from using e-money and digital wallets
Lack of use cases/underdeveloped digital ecosystem: The absence of a digital ecosystem in rural and remote areas limits transactions
Overwhelming app choices/interface: Overloaded UX/UI makes navigating an app too complicated for digitally illiterate customers
Lack of trust in digital/e-money: Due to inexperience (or limited awareness) and/or a previous experience losing money, workers are reluctant to rely on e-money and digital wallets
Fear of making mistakes: Digitally illiterate customers are reluctant to rely on e-money and digital wallets in the event they make costly errors, such as inputing the wrong account number or money amount
Designing a solution that works for domestic workers
Because there are no central and formal aggregators for Indonesia's domestic workers, it is nearly impossible to reach the domestic worker population. As such, we designed and developed a completely digital solution that leverages DANA's current users, who are also employers of domestic workers. DANA users/employers thus play a key role in introducing DANA as a payroll method and as a viable, safe, and reliable remittance service for workers.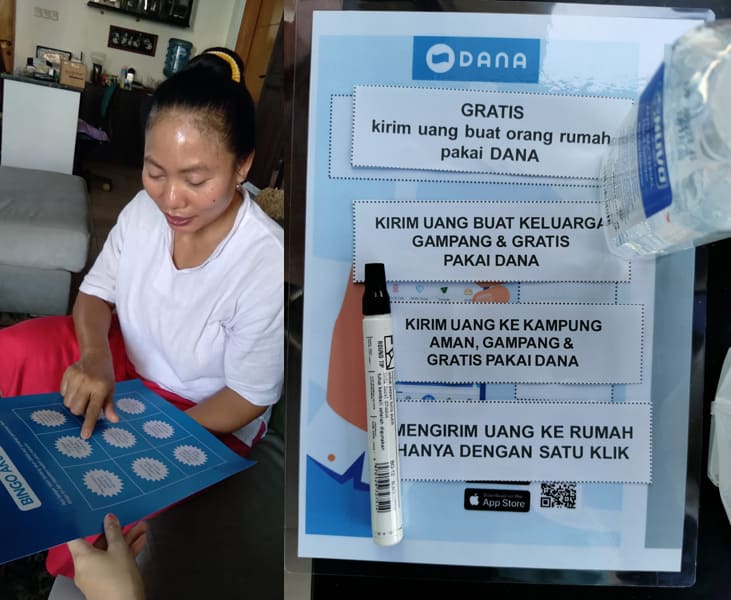 Aimed at building the digital and financial capabilities of domestic workers, DANA's five-part solution teaches them how to use the digital platform to make remittance transfers. First, we build awareness among employers and domestic workers of DANA and its account benefits by establishing DANA as an accessible, trustworthy, and easy-to-use remittance channel. To help customers overcome the hurdles of account registration and the tricky KYC verification process, we enlist employers to assist domestic workers in signing up for DANA Premium accounts. We then provide workers with opportunities to learn and practice how to transact with DANA. Phone notifications and reminders, in addition to gamification and other incentives, help motivate workers to use DANA as a remittance service to send money home. An overview of the solution components is as follows:
Program pitch and onboarding: Promote the program among employers and domestic workers and build trust and confidence in DANA as a remittance service by communicating its values and benefits.
Transaction tutorials: Provide step-by-step visual guides to help domestic workers who are less tech savvy learn how to make transactions with their DANA accounts and provide opportunities for them to practice.
Key customer marketing and messaging: Develop marketing materials for customers with messaging that communicates the key value and benefits of using DANA and emphasizes that the service is easy, convenient, safe, and secure.
Timely notifications and reminders: Send notifications and reminders around payday to keep DANA top of mind for customers and boost the use of DANA to send money home.
Gamification and incentives: Use gamification to help customers send remittances and complete other transactions on DANA's e-wallet platform and provide relevant incentives and rewards to motivate customers who successfully reach milestones.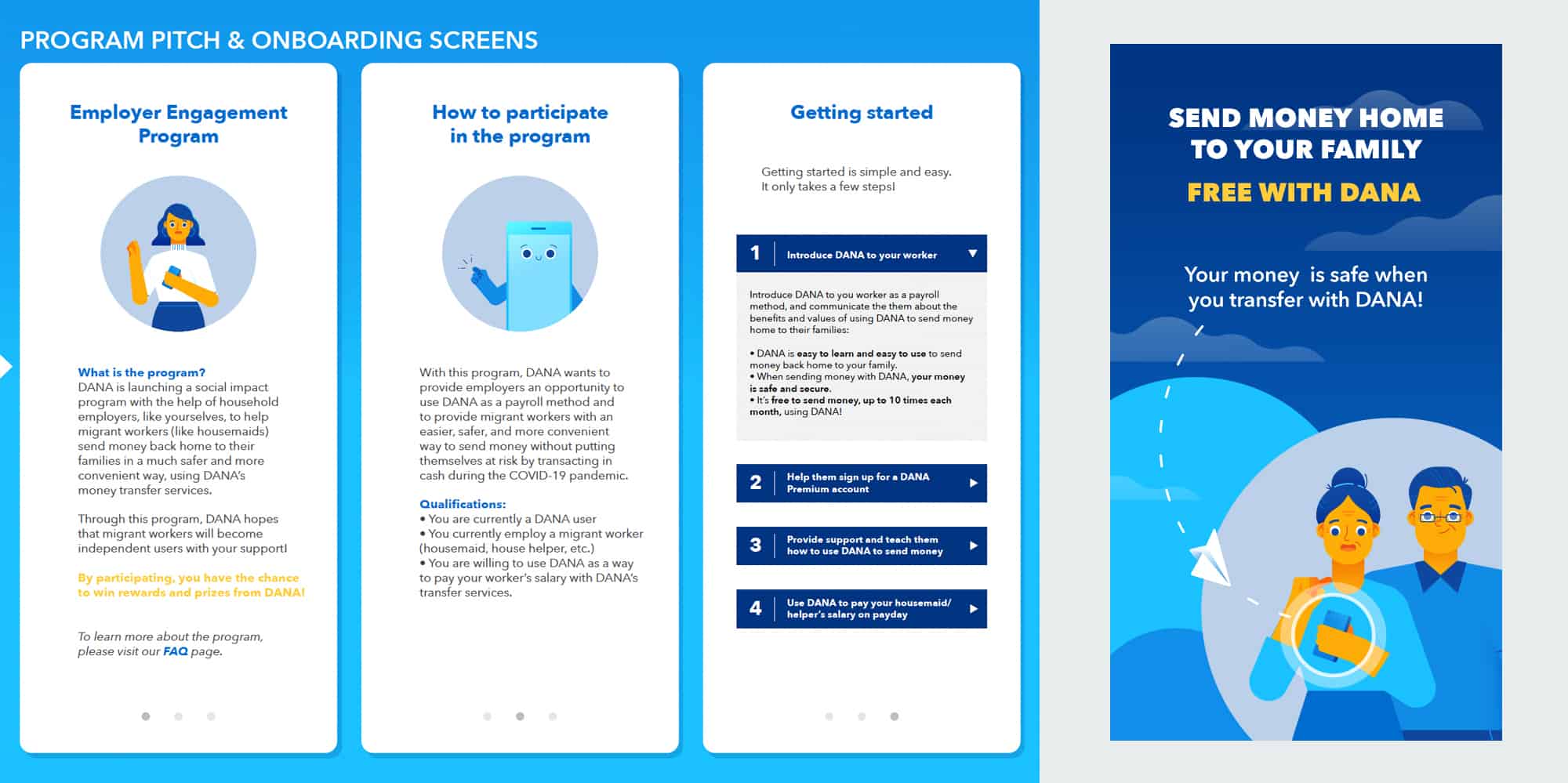 Piloting the solution and next steps
In September 2021, we launched a three-month test pilot of the solution, available to all of DANA's KYC and non-KYC customers. With this program pilot, we hope to understand:
How well did the solution reach domestic customers, and how many workers had access to the solution (received promotional, marketing, and relevant program materials and communications)?
How many women domestic workers accessed the solution overall and started using DANA's remittance services to send money back home?
Based on the results and learnings of the pilot, we will iterate and modify the solution as needed before rolling-out to DANA's entire customer base. In Part 3 of this blog series, we will share our learnings from the program pilot, as well as our recommendations to effectively design and reach domestic migrant workers with a digital remittance solution.