Women's World Banking takes a holistic approach to women's financial inclusion. Working with financial institutions to increase women clients' access to financial services and products is what we're known for, but we also work with these institutions to enhance leadership and gender diversity among their staff through training programs. Our belief is that promoting positive leadership skills and gender diversity will ensure women clients' needs will remain a priority to institutions outside of their involvement with Women's World Banking.  Furthermore, studies have shown that diverse institutions have better business outcomes—thus, our programs also help strengthen these institutions so they can responsibly and sustainably serve women clients.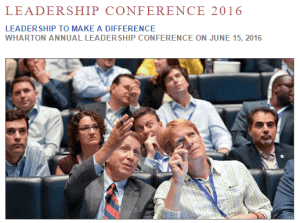 One thing that immediately jumped out to me after a year of working at Women's World Banking is the individual commitment the staff has to our mission. We practice what we preach in all elements of our work, which is why I was only momentarily surprised when our Chief Operating Officer invited staff to attend the 20th Annual Leadership Conference hosted by the University of Pennsylvania's Wharton School of Business. But after a year of working at Women's World Banking I was starting to realize that this is the way of things here. Invitations such as these shows that the executive team is genuinely interested and committed to the individual development of our staff.
Wharton's Annual Leadership Conference is a platform for sharing the personal and organizational capacities that good leaders need in order to succeed. The one-day conference is structured around CEOs from various industries speaking about a variety of topics, from generating culture change, effective decision-making, a woman's personal journey to the CEO chair and the military's perspective on leadership. There were a lot of fascinating stories and advice shared during the day and there were eight learnings in particular that stayed with me long after the conference had ended.
Eight leadership tips from real leaders
A good CEO is a CEO of the people. It is important to remember that the CEO serves staff and clients and it is the CEO's job to make sure that both parties' needs are being met. In order to achieve this, the CEO must continually keep a pulse on both the staff and the clients. Maggie Wilderotter, Chairman & CEO, Frontier Communications.
Know yourself. You need to know yourself well before you can lead others well. This means knowing your abilities, knowing your emotions, and knowing your impact on others. Candor is important; seek feedback and provide feedback. Robert A. Katz, Chairman & CEO, Vail Resorts
Failure is not necessarily bad. When pursuing and developing a new idea do your homework first; consider all the ways the idea will not work and move forward anyway. If the idea fails, then you have "failed forwards" and are set up to do better next time. If you don't do your homework, however, this is a negative failure. Robert A. Katz, Chairman & CEO, Vail Resorts
Do not make language a barrier. Workers in the US judge their foreign counterparts based on their ability to speak English well. This is problematic as more and more companies move to international business development. Do not judge someone's level of intelligence based on their ability to speak English. Dinesh C. Paliwal, Chairman, President and CEO, HARMAN
Gender inclusion will only work if it comes from the top. Gender inclusion needs to be an imperative goal of top executives or it won't actually be implemented. If this has been established, then increase base-level hiring of women so they can be funneled up into leadership positions. Dinesh C. Paliwal, Chairman, President and CEO, HARMAN
The key responsibility of a leader is to accept none of the praise and all of the blame. Under good leadership, staff are able to blossom and succeed; praise should be given to them for their hard work, not their leader. However, when mistakes are made and problems created, the blame should be taken on by the leader who most likely didn't provide enough support, knowledge or guidance. William P. Lauder, Executive Chairman, The Estee Lauder Companies Inc.
Under-promise, over-deliver. You can only move up the ladder if you deliver results. Do this by under-promising what you can accomplish so that you can over-deliver and impress. Patrick G. De Maeseneire, CEO, Jacobs Holding AG
Treat everyone with respect. Show compassion and respect to those in leadership positions coming down the ladder. One day it will be you. Patrick G. De Maeseneire, CEO, Jacobs Holding AG
These CEOs were sharing advice learned over the course of 20 or 30 year careers. Personally, I felt quite lucky to be attending the conference as early in my career as I was. Now, where possible, I remind myself of these eight great leadership tips. It has certainly influenced my development as a professional and my colleagues as well. And by focusing on individual talent and leadership development among staff, Women's World Banking is ensuring that it has the best team to accelerate women's financial inclusion in the years to come.
Women's World Banking attendance was made possible by Mike Useem, Professor of Management and Director of the Center for Leadership and Change and Faculty Director of the McNulty Leadership Program at the Wharton School of the University of Pennsylvania. Prof. Useem is a member of the Stichting to Promote Women's World Banking Board of Trustees and has generously provided his thought leadership for our signature Leadership and Diversity for Innovation Program.