Washington's pivot to Asia is clearly strategic. The region's political and economic forces have significantly shaped global trajectories, and its influence is far from waning. In the past few decades, the countries within ASEAN (Association of South East Asian Nations) have benefitted from the region's increased integration and stability; they now have a combined $2.6 trillion economy.
Southeast Asia is certainly emerging as a sizeable player, and has exhibited significant development and growth. Large sectors of Southeast Asia's populations have been raised out of poverty. At the same time, this progress presents new challenges, particularly around sustainability.
Risks to Asia's rise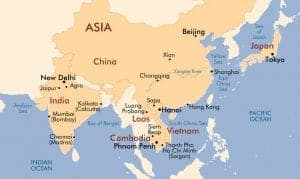 For one, Southeast Asia is at particular risk for climate change. Its coastlines are highly populated and rife with economic activity, and the region relies heavily on agricultural production and fishing. Rising sea levels threatens whole populations' livelihoods and coastal communities. The World Bank also predicts the destruction of coral reefs, raised heat extremes, and increased cyclones, all of which threaten the region's economy.
Several of the area's robust industries themselves are additionally susceptible. According to a report from The International Labour Organization, 137 million jobs are threatened by automation. Garment sector employees are the most vulnerable to advances in new manufacturing technologies. This is of particular concern to countries like Cambodia, where the garment sector contributes roughly 80 percent of the country's annual exports and employs over 700,000 workers, around 90 percent of which are women.  Understandably, this sector has had a large impact on poverty reduction; a large portion of factory workers are poor women who migrated from rural areas.
 Enabling women to fuel economic growth
Innovation is key to combat these risks, and women are not shying away from resourcefulness. One key way women are generating wealth is through their own businesses. Around 24 million women currently own micro, small and medium-size enterprises (MSMEs) in the region, and the number of women-owned enterprises is growing faster than those that are male-owned. Women are increasingly choosing to be self-employed, starting their own companies and entering emerging sectors like ecommerce. It is crucial to support this trend as workers will need to move away from the aforementioned industries.
Despite women's substantial role in the region's economies however, their access to financial services is still lacking. As Women's World Banking previously reported, sixty-nine percent of adults in East Asia and the Pacific have a bank account. However, when we looked closely at four markets in Southeast Asia (Indonesia, Vietnam, the Philippines, and Cambodia), we found that less than one third of women have a formal bank account. Further, the percentage of women-owned SMEs who are unserved, underserved or choose not to access formal financing ranges from 79 to 97 percent in those same countries. Women-owned SMEs in these markets are thus clearly disadvantaged, lacking bank accounts and loans to open and grow their businesses.
Like Washington, Women's World Banking sees an opportunity to strengthen the Southeast Asia's economic growth and sustainability. We know that women's financial inclusion is part of that solution and are exploring ways to expand our work in the region.