Adaora* got her first bank account when she was 13 years old. When the General Bank* teller first handed her the debit card for her own teen account, the pride she felt at being able to save and withdraw money all by herself kept a proud smile on her face for a whole week. Her mother was happy too, as the account would let her daughter learn the importance of saving, and help her do something more useful with her pocket money than just spend it all on snacks and the latest music.
Adaora's account was a point of pride for General Bank as well – by offering a teen account, the bank could capture new customers at a young age. While there wasn't much money in Adaora's account at age 13, the bank knew this would change over time. It looked forward to having her as a long-term customer while she grew up and her financial needs evolved. Adaora and General Bank enjoyed a friendly four-year relationship as she saved in her teen account.
By the time Adaora turned 18 and headed off to university, however, she felt too old to be using an account for teenagers. She wasn't sure what else to do, so she decided to take out her savings. She used the money to help buy some books and furniture she needed for her new life on campus. Since she didn't want to use her teen account anymore, her habit of saving part of her monthly allowance gradually disappeared. She found herself spending whatever money she had on hand, without thinking much about the future. General Bank did in fact offer an account for university students, but no one ever told her about it. A few years later, another bank approached her with an attractive offer, and she decided to open a new account there. She only used this account some of the time, however, since she no longer had the habit of saving regularly.
Youth banking gone wrong: missed opportunities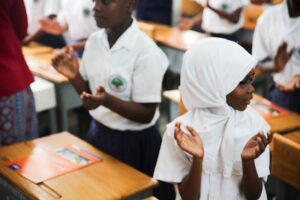 Adaora's story is a clear example of a well-intentioned but poorly executed youth banking proposition. In this example, General Bank had done many things right: the bank had recognized the long-term business case for capturing customers at a young age and developed products that could serve youth customers' evolving financial needs. However, the bank had neglected to think through how to help young customers like Adaora navigate the transition from teen to student account.
When Adaora stopped saving with the bank, both she and General Bank suffered. The bank lost a customer who would have otherwise continued to take up more products and services as her financial needs matured. On Adaora's side, the positive effect that growing up banked had on her savings and money management habits was also lost, along with the advantage that continued saving could have given her as she became and adult and entered the workforce.
Migration strategy: drive youth financial inclusion to ensure business sustainability
In order for a youth banking proposition to succeed in achieving its potential for positive social and financial impact, financial service providers must have an effective migration strategy in place to guide youth customers as they graduate to new products at each new stage of their life.
Over the past year, Women's World Banking, with support from UK aid from the British people, has collaborated with two commercial banks, Nigeria's Diamond Bank and Tanzania's NMB Bank Plc, to develop and implement comprehensive youth migration strategies. Our team has been working with both institutions on youth banking propositions for several years, funded with UK aid from the British people. As Adaora's story makes clear, youth will likely not migrate themselves, and missing these key transition points is a lose-lose proposition for both banks and their customers.
Our experience with Diamond Bank and NMB has highlighted three key considerations financial institutions must address as part of an effective youth migration strategy.
1. Proactively engage clients about migration
The bank must design a communications framework built around key transition points within a migration strategy to notify and educate youth and parent customers about relevant account transitions at the right time. Opportunities to migrate to a new account type should be framed in the context of the corresponding changes occurring in the youth's life, using messaging and timing that demonstrate the bank's desire to support the customer as they grow. In addition, information on migration strategy and processes must be integrated into continuous training for frontline staff, to ensure staff are equipped with the necessary information to guide customers through each key transition point.
2. Systematize migration processes
Sustainable strategies integrate migration processes into business-as-usual procedures at the bank. Migration should be automated wherever Know Your Customer (KYC) requirements permit. For transitions from minor to regular accounts, additional documentation to achieve updated KYC should be standardized so that the process is clear to staff and customers. Additionally, automation of communications and alerts using the "flagging" feature in the customer relationship management (CRM) system at key migration opportunities can streamline migration processes.
3. Track the customer journey:
Each youth customer must be assigned a unique customer ID at the time his or her first account is opened. This ID should be in addition to the parent or guardian's unique customer ID. The youth's customer ID will then migrate with the customer and be attached to each of his/her subsequent accounts. This enables the bank to look at the lifetime value of a youth customer and reinforce the long-term business case for its youth banking proposition.
A migration strategy that addresses these three components will enable the financial institution to successfully serve youth customers throughout their lives. Through effective migration, banks can create a win-win youth banking proposition that generates sustainable business value while having positive social impact through bringing youth into the formal financial system at a young age.
*Adaora and General Bank are fictional characterizations
Have you had experience with youth banking or migration strategies? Comment below or tweet at us (@womensworldbnkg and @megflhrty) and tell us what were the key factors for success or what challenges you have faced.