It's lunchtime and you're in a hurry, so you walk into a fast-food restaurant for a quick meal. Looking at the menu posted above the counter, you're instantly dazed and confused. Your eyes glaze over. It's not just your low blood sugar. It's that there are so many dizzying options on the menu that you have no idea what to order. Will it be the chicken sandwich with a side of fries, or the sandwich platter that comes with a free drink, or the special combo of the day with a choice of two sides? Or one of the other 48 lunch options fighting for space on the menu?
The food might taste terrific, but if the ordering process is a headache, you're likely to walk out and never return. The same goes for most products and services on the market: Customers will come back to a business that offers a smooth and easy experience. That's what Chipotle Mexican Grill, an American fast casual restaurant chain, set out to do when it designed its radically simple menu. The chain reduced a multitude of confusing choices down to the most important options and cleaned up the way it presented those options. In the fast-food world, busy and complicated-looking menus had become the norm. Chipotle did away with all that and its new design concept revolutionized the industry. As unlikely as this might sound, financial institutions could benefit enormously from the fast-food lesson.
Clients typically face a wide and often confusing array of choices when it comes to financial products. As financial services become increasingly digital and clients have to conduct transactions on their mobile phones without in-person assistance from bank staff, institutions can't afford to alienate potential or existing customers with baffling, overly elaborate new options. Ensuring a seamless, easy-to-understand, on-the-go experience on a mobile phone is crucial. Nigeria's Diamond Bank discovered the challenges of creating a simple, streamlined digital experience when it recently added new services to its BETA savings account.
A BETA Way to Save
In 2012, Women's World Banking worked with Nigeria's Diamond Bank to launch BETA, a new way of saving that brings the bank directly to women entrepreneurs in Nigeria's busy markets. Agents called BETA Friends visit their clients in the markets armed with smartphones connected to Diamond's core banking system. The BETA Friend enters the client's transaction on her smartphone and the client gets an SMS alert to assure them that it has worked. BETA was a tremendous success, adding 400,000 more women to the bank's client base.
After a couple of years, customers indicated that in addition to making withdrawals and deposits to BETA accounts, they wanted more options, such as checking their balance and buying more airtime. But a few months after the bank added those options to its digital interface, it found that BETA customers weren't using them. Why?
User experience testing to create better products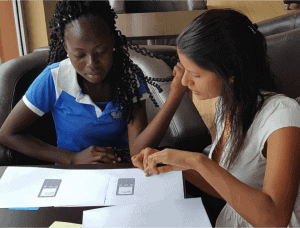 Women's World Banking designed and conducted a series of User Experience (UX) Testing sessions together with Bankable Frontier Associates to observe how customers were reacting to the newly available digital options. UX testing is a technique in product design that evaluates a product by observing a user trying a system in a realistic setting. You observe how the system works for the user, what questions they have, and where they get stuck.
Our UX specialists grouped the bank's customers into segments based on their gender, literacy level, and whether they were using a basic or smartphone. Then we sat down with a number of those clients one-on-one. What we observed in the UX sessions confirmed what restaurants like Chipotle already knew. Customers found crowded and option-packed menus to be confusing and difficult to use. The cleaner the presentation, the better. This was especially true for customers from lower-income, lower-literacy segments.
In the case of the fast-food chain, the redesigned menu allowed customers to choose from a simple roster of burrito, taco, bowl or salad. Then they choose the fillings, condiments, sides and any additional options, following a clear-cut, logical presentation that moves from left to right across the menu. This menu format continues to be a game-changer, widely imitated in the fast-casual-restaurant sector.
Being 'simple' is not that simple
But what does a simple menu of financial services actually look like? "Simple" can be a deceptively simple concept. To build an interface that resonates with customers, one that presents one set of options out of all the options available, a financial institution needs to tap into what its clients need first and foremost. Are they typically using the digital app just to make a withdrawal or a deposit? Or are they signing in so they can check their balance, for instance, or transfer money, or conduct another transaction? The basic services they're looking for when they sign in should be the only options that clients see at the beginning. Once customers make a selection from that stripped-down menu, they can move one step at a time, narrowing the options to the exact transaction they need.
Offering all of the available choices in detail right off the bat only creates confusion. Still, knowing which options to edit out in the first round is more challenging than it seems. That's why face-to-face sessions with a focus group can be critical in getting the design and wording right.
Another common obstacle that can turn users off: jargon and unnecessary wording. When we UX-tested the new BETA digital options, we found that wording such as "transfer funds" was often a hurdle, since it's not a term that clients typically use. "Send money" conveys the meaning more clearly.
Beyond the menu options, the bank will also need to determine if customers are getting bogged down by other aspects of the design. Here, again, UX testing is crucial. For example, as Women's World Banking worked with Diamond Bank to resolve the interface issue, our specialists noticed that most road-signs in Nigeria feature all-caps letters: locals are accustomed to this and find it clearer and easier to read. After we tested all-caps versus lowercase options, we found that customers preferred text to be in all-caps, particularly with low-income clients and those with lower literacy rates.
We also noted that customers liked seeing the bank's name mentioned throughout the digital app. This signals that they're doing business with the institution itself, and it builds ongoing trust as customers conduct their remote digital transactions.
So, what did Diamond Bank's new digital interface for BETA accounts look like before and after our UX testing? The "before" image is on the left—a sea of numbers and characters that fill up the screen and disorient users. Compare it to the new interface on the right: Fewer words, fewer numbers, shorter questions. It's the Chipotle of digital-banking menus. It won't serve you a burrito, but it will give you a clearer, easier way to access your lunch money.