At eighteen years old Catalina married her childhood sweetheart Edwin with nothing but love in her heart and steadfast hope for their future. Today, she is the proud owner of "Chickenjoy," the most famous fried chicken food cart business in her hometown of Sibunga, a municipality in the province of Cebu, Philippines, a brand name cheekily adopted from the trademark dish a national fast food chain.
When they started life together, Catalina and Edwin tried their luck selling fruits and vegetables. Unfortunately, the income from this microenterprise was not enough to support their young family. They decided to move to the capital Manila, hoping to earn more but soon realized that life was not easy for those who did not finish formal education. Catalina stopped going to school after her 3rd year in high school and Edwin only attended one year of college.
They decided to move back to home and started selling popcorn, ice cream and juice in the towns of Sibunga and Carcar. They also sold toys during town fiestas. Steep competition forced Catalina and Edwin had to work extra hard, cooking and packing the popcorn and making the ice cream at night so that they could start selling early the following day. Their attention to delivering the best quality earned them a reputation in the market. Eventually they were selling 450 to 500 cups of ice cream a day at PHP3.00 per cup, enough for a steady income to support their family. Not one to rest on her laurels, Catalina soon turned her attention to expanding her product inventory to include peanuts, juice and more importantly, fried chicken. Her secret weapon? A recipe passed on to her by her father-in-law, one he learned from the kitchens of a Chinese family he worked for years ago.
In September 2006, Catalina heard about Negros Women for Tomorrow Foundation's (NWTF) Project Dungganon and learned how being a member could help her expand her business. She joined and used her first loan of PHP 3,000 to add to the revolving capital of her popcorn and ice cream business, enabling her to sell more and increase her daily income. By 2009, Catalina was confident of both her entrepreneurial skills and the sustainability of her existing business to expand into the fried chicken business she had always dreamed about. The delicious, crispy fried chicken was an instant hit and she sold 10 kilos a day when starting out.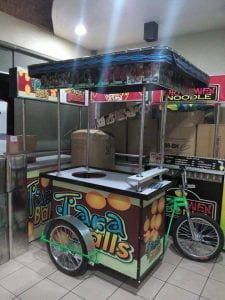 Now Catalina sells an average of 35 kilos per day and employs seven vendors who sell her products around the neighboring towns in bicycle-powered carts. She has also added two tricycles to her fleet of food carts so that she could sell her products farther afield. Catalina is an expert businesswoman. She is meticulous and organized in maintaining inventory levels while keeping a strict quality standard for all her products. She makes sure that 20% of her income is reinvested back to the business to sustain growth.
Catalina also believes in giving back. She is always generous in donating to the church especially during fiestas, and is always ready to help her neighbors in their time of need. She shares her blessings because she believes that having a good business should not only help her family – it should also allow her to help others as well. She got a little help from Project Dungganon in order to achieve her dreams—why can't she give others the same chance?