Companies like Apple, Google, and Twitter have long recognized that how users interact with their products and services has a direct impact on their success. That's why they constantly test every aspect of their products and services with real users to ensure high levels of customer satisfaction.  This process is as integral to product development in Silicon Valley, as it is in Lagos, Nigeria where Women's World Banking is using the same techniques to break down barriers and bring better banking services to low-income women.
What is UX?
User Experience Testing, or UX Testing, is the process of enhancing satisfaction by improving usability, accessibility and pleasure in the interaction between a user and a product. Researchers learn from what users actually do, as opposed to what they say in focus groups or how they respond to surveys. By observing people as they use a product in the context of their everyday lives, we can learn what features matter most to them, and improve design to better suit the way they interact with the product.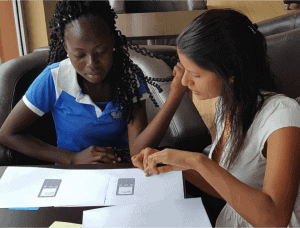 This is especially important when designing financial products for under-served women who face unique challenges to accessing financial services. Women's World Banking research has found that while women are inherent savers, mobility and time constraints, low levels of literacy, as well as well as a feeling that banking is not relevant for them bar them from easily accessing these products. In Nigeria, although women have higher literacy rates and more access to mobile phones than in other developing countries, they still face obstacles in accessing financial products and services. In order to overcome those challenges, products aimed at women must be designed to be accessible, convenient, simple, affordable, and secure – delivered through channels that provide services where women live and work. To do this, we first need to understand how women interact with the financial products and services available to them. This is where UX testing comes in.
Deploying high-tech techniques in fintech for low-income women
With support from EFiNA, Women's World Banking partnered with Bankable Frontier Associates (BFA), a global consulting firm that specializes in the development of financial services for low-income people, to employ UX testing on Diamond Bank's BETA Savings Account. Our goal was to optimize the user experience to drive strong uptake and use of BETA, particularly among women.
BETA is a safe, convenient savings account, targeted to women, that delivers services to customers through mobile phones and supportive channels such as local service agents known as BETA Friends. BETA was launched four years ago in Nigeria and serves over 300,000 customers nationwide.
We applied UX testing to four new self-service features being launched as an extension of BETA: "Check Balance," "Buy Airtime Minutes," "Send Money" and "Pay Bills" -. The new features are accessible through both smart and basic phones allowing customers to conduct services on their own.
We observed 19 account users interacting with the new services on both smart phones and basic phones, and we interviewed four BETA Friends. We began by learning about the users, their families, their jobs or businesses and the ways they use their BETA account. We set up use-cases or scenarios based on real life situations and assigned them tasks such as "check your balance." We carefully watched how participants walked through each step, guiding them in a neutral manner where needed, and recorded their initial reactions. As they moved through the steps, we noted where they struggled or needed help, asked probing questions, and then moved them on to the next task.
Brand-driven, user-tested product design
We knew that the design needed to be aligned with BETA brand principles of Simple, "No Wahala" (no stress), and Focused on Savings. Based on the results of the UX tests, we recommended that the design optimizations focus on a few options that were most important to users and reduce the number of steps involved in using the product. The interface should use short, easy instructions in local "pidgin lite," a grammatically simplified English-based and creole form of communication used across Nigeria. Instructions should also be in all capital letters, based on our BFA consultant's observation that nearly all signs in Lagos were written in, and users would be accustomed to reading, all capital letters.
Basic phone users tended to be less sophisticated with technology, had lower literacy rates, and often didn't realize that value-added services were available on their "small" phones. Basic phone users also faced challenges such as smaller displays that made it cumbersome to scroll through options and harder to respond to menu options. To address these challenges, we recommended breaking text into readable "chunks" and displaying only the four most important options to make the menu easier to navigate. We also advised offering fewer options for money amounts and shortening text into simpler, more recognizable phrases like "Send Money" instead of "Transfer Funds" to better serve users who have difficulty reading
These simple changes make it easier for users to navigate their BETA Savings Account, and increase the likelihood that the low-income women it was designed for will use and benefit from the product. Diamond Bank plans to implement the changes in conjunction with a communications plan to build awareness of the enhancements and to train BETA friends on the new features. Diamond Bank will continue to monitor results and optimize the product as needed.