This is the third in a three-part series examining a fresh approach to digital remittances in Indonesia.
By Angela Ang, Elwyn Panggabean, and Ker Thao
Over the last six months, we launched a pilot program with DANA, one of Indonesia's largest e-wallet providers, to provide a digital remittance solution for domestic workers to send money back home in a safe and secure way. The pilot solution was initially designed to target DANA's existing users who could be potential employers of domestic workers and leveraged them as the first touchpoint in introducing DANA as a viable remittance channel. By way, employers would help teach their workers about the benefits and values of using DANA, providing a cheaper, faster, and safer digital avenue for workers to send money home.
Taking an iterative approach in the pilot implementation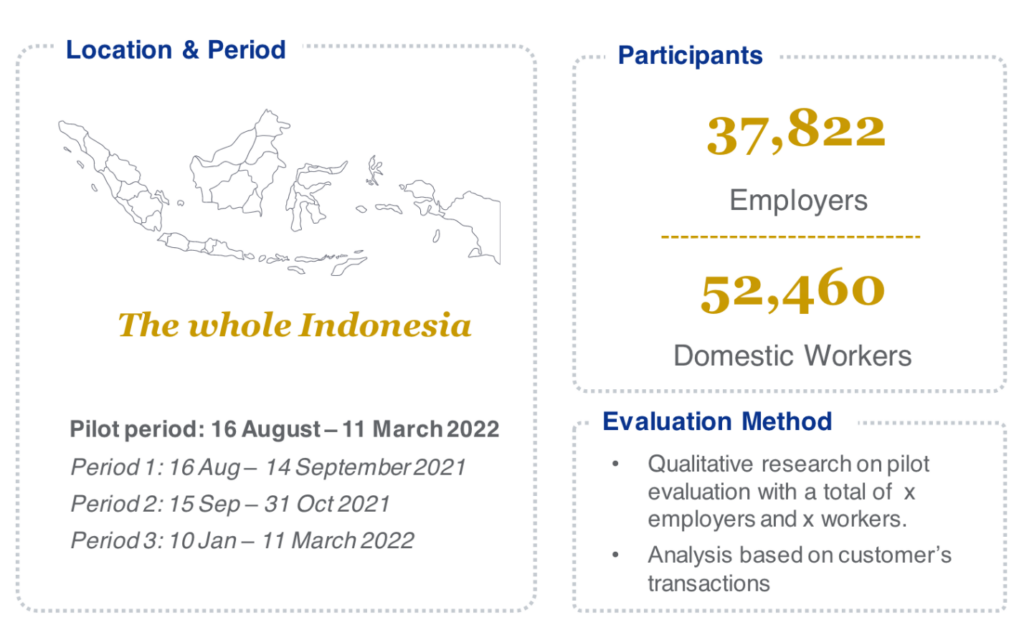 Originally, the pilot project was planned to be launched across a three-month, three-part phase: the first and second with a focus on targeting employers as a touchpoint to reach domestic workers, helping them sign-up their domestic workers for DANA accounts, and teaching them about DANA and how to use DANA to transfer money home; while the third phase spanned over the last two months, directly targeted the domestic workers with a focus on building customer's confidence and experience in using DANA. While the first and second phases showed positive results in helping domestic workers with access and use of DANA as a remittance service, the third phase showed a large increase in engagement and use.
Key learnings from the pilot
Program Awareness
Many of the participants of the domestic worker remittance program learned about the program through a variety of different channels and media such as through word-of-mouth referrals, the most popular and trusted method between workers, from other users who were participating in the program (friend, neighbor, relative, or employer) and through DANA's Instagram page and stories. The evaluation highlighted additional avenues to reach a larger domestic worker audience, with customers suggesting more advertisements and messages in places that they frequented: partner merchants (such as convenience stores); social media (YouTube and TikTok, which they use for entertainment); and leveraging influencers to help get the message across.
The program used messaging that was targeted towards domestic workers such as "Program untuk Mbak ART" or Program for domestic helpers, which helped workers feel appreciated in a sense that this was a program made specifically for them. We also included taglines that mentioned sending money to their "family, village, or back home", which resonated with customers. As a result, they came to understand the benefits and values of using DANA and considered it as a convenient tool that could be used at their fingertips, it was easy to use, and offered 10x free transfers a month.
Program Sign-up and Onboarding
It was evident during the first two phases of the program that employers were not the most effective way to help domestic workers sign-up for an account. This was further validated in the pilot evaluation. We discovered that workers who wanted to participate in the program were willing, able, and capable of signing themselves up for their own account, with the caveat that most of those who were able to do so tend to be more tech-savvy and digitally literate. They were resourceful and able to access videos and tutorials that which were provided within the program to help them complete the necessary steps. The rest of the domestic workers learned with the support of family members or their employer.
While employers did not become a great sign-up touchpoint, they were effective in providing education and helping their workers to use DANA. However, the employers were faced with challenges of their own. Some of the major challenges were due to workers not having smartphones or not being as tech/digitally-savvy, which discouraged employers from participating and help their workers participate as well. Another challenge was that employers did not have the time and/or knowledge to teach their workers. Many employers had no objections in assuming the teaching role, but preferred someone who was much closer to the workers (like family, friends, or peers) to teach them with some saying that the educational piece should come directly from DANA.
Transacting with DANA and other Use-cases

Overall, the solution program proved to be successful. It helped teach domestic workers how to use DANA to make remittance transfers back home and with the progression of users who started to understand the benefits and values of using DANA, they became more interested in exploring other use-cases. We saw as a direct result, customers who participated in the program started using DANA for bill payments (electricity tokens and water bills), top-ups, and online shopping. Furthermore, they even started to use DANA Goals—a short-term savings goal feature in DANA.
Drivers and Detracting Factors for Usage
As a part of the evaluation, we identified specific elements that helped drive the use of DANA for remittance services and beyond, as well as detracting factors that prevents customers from using DANA.
Drivers
Detractors
Targeted messaging and communications helped customers see and feel that the program was aimed at them

Reminder messages and in-app notifications helped to nudge customers at the right time to remind them to use DANA to send money home

Ease of use and transacting made customers want to explore other use cases

Program incentives (raffles and rewards) also helped to drive use

Customers who didn't have support or a teacher to help guide them prevented them from learning and using

Customers who didn't have a smartphone or shared their smartphone with others resulted in them not being able to participate

Customers who did not understand the Terms and Conditions of the program (the necessary steps needed to be completed in order to qualify for the program and to qualify for changes to win incentives)
Incentives for Usage Beyond Raffles and Rewards
The pilot evaluation showed that the most effective solution components were a combination of key marketing/messaging, reminders, and incentives to help drive usage. The targeted marketing and messaging were effective to relay the values and benefits of using DANA for domestic workers and struck a chord with a program that was designed specifically for them. The communications about DANA's values and benefits were clearly understood by customers. Reminders played a critical role in the solution as well. It helped to nudge customers who may have forgotten about using DANA and helped remind customers that DANA could be used for many other transactions beyond remittance transfers.
Through the pilot evaluation, we also discovered that while many customers were initially attracted to the program due to the chance to win cash prizes and rewards. However, upon further usage, many started to see the actual benefits and values of using DANA. It was seen as a fast, easy, and free way to transact. In addition, it was also viewed to be a secure and safe way to send money home; while at the same time easy to learn. These were the real incentives for using DANA as a remittance channel. It is encouraging to see as the program helped build user confidence and digital financial capabilities through a learn-by-doing approach which gave them the digital tools to transact and manage their own money.
Next Steps: Scaling for Impact for all Domestic Workers
The project provides evidences on the effectives of using remittances to help bring migrant workers, in this case, domestic workers, into formal financial services, as well as showcasing the important role of digital wallets, like DANA, to drive digital remittance services in Indonesia. The business opportunity on (domestic) remittances is huge and can be a strong use-case to target the low-income segment, particularly migrant workers.
With the success of this pilot program with DANA, Women's World Banking is looking to scale this solution to the rest of the domestic worker community in Indonesia. We plan on creating a solution that specifically targets them to provide a safe, secure, and easy way to send money home. In addition, we want to measure the impact of the solution on the lives of women customers and plan to conduct an outcomes research. The upcoming research will measure the impacts of the solution in the short and long-term periods towards women's (economic) empowerment.
Our ongoing efforts are to keep customer engaged and continue to learn to use digital financial services for their daily financial needs by building their digital financial capabilities and confidence so they too can become complex and multi-case users. It is our hope, at Women's World Banking, that solutions such as this will help support low-income women grow to become more confident and independent users who can increase their financial health, financial resilience, and financial independence to make their own financial decisions in the long-term.