Women's World Banking brought together more than 300 participants from more than 60 countries to hold its most recent edition of the Making Finance Work for Women Summit. Throughout the two days, attendees tackled the social and cultural barriers preventing finance from working for women as well as the wide array of possible solutions to build a world where women thrive, businesses grow, and economies prosper.
Staff at Women's World Banking reflected on a few of the key moments during the two days:
During the "Designing Digital Credit Responsibly" session, featuring Geoffrey Prentice (Oriente) and Buhle Goslar (Jumo), Goslar noted that traditional finance tools haven't addressed the invisibility of women, while Prentice noted that the investment in digital credit "can be a force for good, but right now that isn't the case." Both panelists agreed that the rise of digital credit presents challenges for women, and implementing responsible regulation in digital credit is crucial.
A little controversy: The panel for "Partners in Change: Breaking the Glass Ceiling Together" was intentionally all men with a main goal: for men to be vulnerable within the discussion of gender diversity, and hold themselves accountable on how they can create change. Uzoma Dozie (Sparkle) noted that the right leadership is needed to innovate, and there has to be deliberate awareness. Gustaf Agartson (Bima) said that what helped him was realizing he did have unconscious bias, and "everyone should take those tests and have that discussion."
When discussing how to create organizational and cultural change, Michael Correa (Westpac) says if you are an executive, make a decision to hire a woman in a key role. "Persist and don't take the easy way out."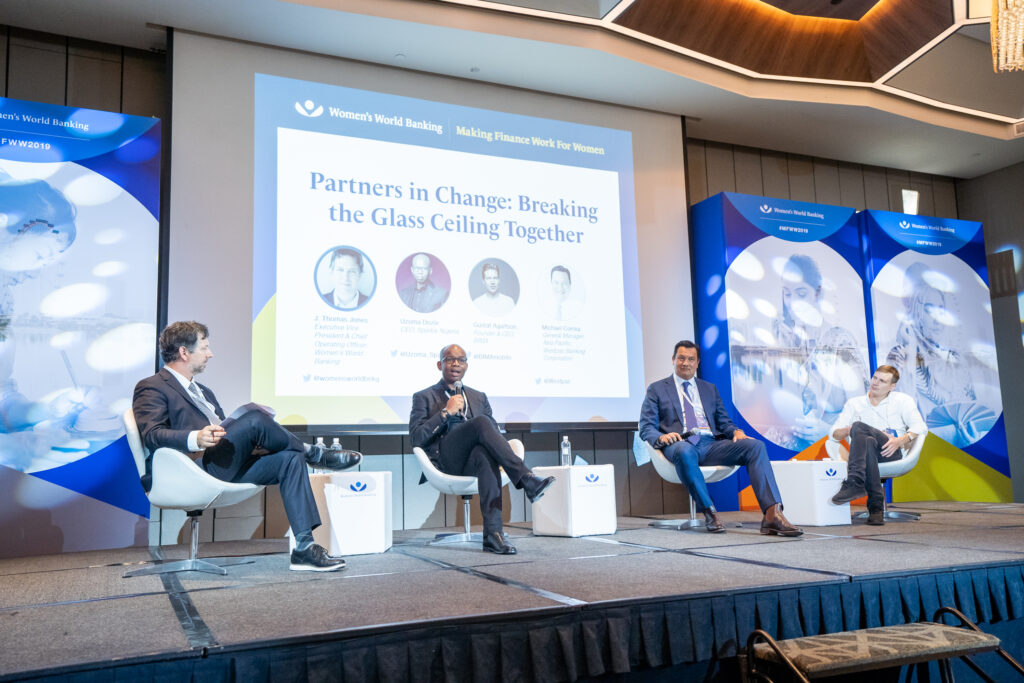 "How Can We Continue to Harness the Power of Innovation?" was a fitting close for #MFWW2019, as three women – Mary Ellen Iskenderian (Women's World Banking), Debra Mallowah (Safaricom), and Tan Bin Ru (OneConnect), discussed the crucial need for collaboration and partnerships to drive change. Mallowah notes "If you are thinking about growth, you have to think about 50% of the population – women."
Women's World Banking will continue to drive the conversation towards action with diverse stakeholders for making finance work for women. From the role of leadership and innovation to activating accounts to policy and regulation, it is essential that the question of 'how does this affect women' is always asked and answered.
Join Women's World Banking in San Francisco in 2020 and Mexico in 2021 for the next Making Finance Work for Women Summits.