Health microinsurance has often been considered a complex product that is probably not worth investing in, rather than a solution that provides meaningful benefits to the consumers and strategic advantage to the insurers and distributors. Driving value and promoting usage, the theory goes, would be unsustainable. The success and sustainability of Hemayet Lead, a hospital cash and life microinsurance product in Egypt blows that assumption out of the water.
Women's World Banking conducted research in 2014 with network member Lead Foundation's clients who are mostly low-income women entrepreneurs. We found a need for an insurance solution that would function as an income replacement tool during hospitalization emergencies.
With seed support from Agence France de Developpement, Women's World Banking and Lead developed Hemayet Lead (meaning "protection by Lead"), a hospital cash product with a life insurance component linked to a client's loan term. Additional funding from Swiss Capacity Building Facility (SCBF) and Visa, Inc. allowed us to scale the product to the rest of Lead's branches as well as enhance the delivery quality.
A Client-centric Definition of Microinsurance Success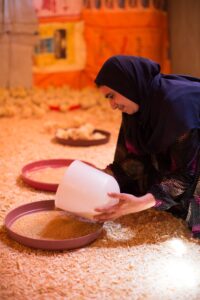 At the outset of the project, Women's World Banking and Lead agreed to measure the success of the program according to product usage or claims frequency, i.e. are the customers are using the insurance or not? Both parties felt that this indicator kept the focus on providing the most value to the consumer while ensuring long term sustainability of the product.
We designed Hemayet Lead's pricing based on actuarial calculations of the population's health profile and trends. If the actual claims frequency is lower than the target, it raises a flag for the service providers to investigate and remove bottlenecks.
What causes low claims frequency? Clients might forget they have insurance (lack of awareness); they might not find the benefit amount to be worthwhile; the claims process is too cumbersome; they don't trust that they will get any money from insurance or they may feel embarrassed or hesitant in asking for money even if it's rightfully theirs.
Identifying product usage as our measure of success begged the question: how might be know what's driving usage? Our experience in Egypt led us to our hypothesis, that if clients are not aware of the insurance in the first place, they will not use it.
If She Doesn't Know about the Insurance, Does it Even Exist?
Hemayet Lead was piloted in 3 branches starting December 2015. The mid-term assessment, conducted 3 months into the pilot, showed that the claims frequency varied across the three branches and loan types (group vs. individual loan clients).
Women's World Banking conducted interviews with clients and branch staff to get a grasp of the problem. These conversations, as well as observations of product delivery revealed that        loan officer communication to clients was inconsistent and that clients' understanding of product features varied greatly.
It was during this early evaluation that Lead and Women's World Banking first hypothesized that lack of awareness causes low claims frequency. We conducted a phone survey to verify this hypothesis and assess gaps in client awareness and how it related to product usage.
The survey found that a tenth of the clients had no idea they had insurance, and that of those who were aware, many could not name more than 3 features of the product or how to file a claim. But there was also good news.
The interviews revealed that the product was, when used, performing as we wanted. Clients found the benefit meaningful, though at first, "I didn't think it would work". Once they received the benefit however, they were pleasantly surprised, which reinforced their trust in Lead. One client noted, "I trust Lead more now because they give me the impression that they care for us."
These findings underscored the need of simplifying communication and creating reminders as clients tend to forget about the insurance over time. Women's World Banking and Lead adjusted the marketing approach to focus around 3 most important features of the product (per night benefit amount, hospital discharge certificate requirement and life insurance benefit amount). We also doubled down on visibility items (posters etc.) in the branches as a reminder to the clients about insurance.
Women's World Banking and Lead continued to optimize operations and client communication throughout the pilot based on monitoring client awareness. The result? Today, 100 percent of Lead's 200,000 clients across all 18 branches have insurance which they find meaningful. Lead has also been able to position itself as a thought leader in the industry. They are the first financial institution in the country with a commercially sustainable, self-funded micro health and life insurance scheme.
Driving Value for Clients is Good for Business
Hemayet Lead achieved breakeven in just 3.5 years of operations by focusing on increasing client value through improved service quality and efficiency. The surplus generated from the business profits is being passed on to the clients. Lead improved pricing and increased the benefit amount for hospitalization to 300 EGP (from 250 EGP) at no additional cost.
This is a win for all – Lead and its clients, insurers, Women's World Banking and our donors.