To reach a bank? That's 500 MWK (US $1.25)," says Chimwemwe, a farmer in Bvumbwe, about 80 kilometers from the city of Blantyre, Malawi. She grows vegetables and maize to support her three kids as well as two orphans in her care. Savings is important to her to prepare for emergencies and cover school fees for her children. She would love to have a bank account, but for her and others living on less than $2 a day, costs such as transportation and bank fees put it out of reach.
Nearly one billion women around the world do not have access to a bank account. Many of the barriers that these women face will sound familiar — lack of decision-making power within their families, lack of education, lack of formal employment. They are all barriers to women's equality that we see around the world. However, one barrier to financial inclusion may be more obvious than you realize: distance. While many of us pass three or four banks and ATMs on our way to work, many rural women in developing countries need to travel long distances to reach the nearest bank at high cost. These women cannot afford to take this time away from their work or their families to open bank accounts and establish a safe place to save their money. These women do not need charity — they need an innovative approach to banking.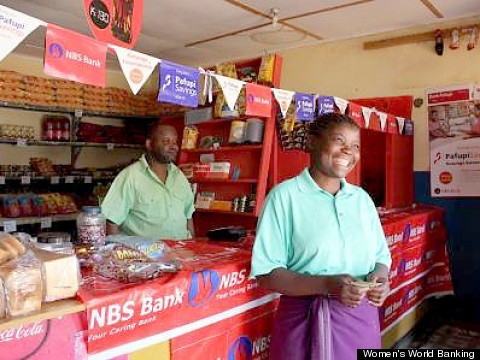 The good news is that banks are starting to pay attention. A great example is NBS Bank in Malawi. Eighty-six percent of Malawians live in rural areas but, according to
2014 data from FinScope
, these communities have drastically lower access to formal bank accounts with 27 percent banking in rural areas versus 68 percent in urban areas. Women throughout Malawi are less likely to have a bank account than their male counterparts. Only 27 percent have accounts versus 37 percent of men.
With support from the UN Capital Development Fund, NBS Bank worked with Women's World Banking to better understand rural Malawian women – their financial goals, current methods of saving and what prevents them from banking with formal financial institutions – and design a savings account to meet their needs. They developed the Pafupi savings account. Pafupi, meaning "close" in Chichewa, a local language in Malawi, is a mobile savings account designed for low-income people in rural areas, especially women with no previous access to a bank account.
Here are five ways this innovative savings account can help women in Malawi:
1. Understanding women's unique needs and challenges. Research showed that, like rural women in most developing countries, Malawian women fill many roles within their families, leading domestic as well as economic activities at home, on the farm and in the markets. However, Malawian women are unique in that they identify themselves as providers and have an expected role in saving for the family's future. These women consider a bank account a worthwhile aspiration. However, they believe that banks are not for them.
2. Bringing the bank to the community: Pafupi savings accounts are opened by bank staff members who visit the women in their rural communities and use mobile technology to set up the accounts quickly and easily. Reaching out in this way communicates to women like Chimwemwe that this savings account is for her.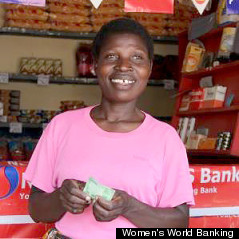 3. Offering convenience and security: Pafupi savings accounts enable women to bank in their neighborhoods, cutting the cost of transport, which makes saving at a bank prohibitively expensive. Pafupi offers transaction services through local shops who serve as bank agents using a mobile phone. The women already know and trust these shops and can now make deposits and withdrawals there rather than storing cash at home where it can slip through your fingers.
4. Helping women save — regardless of their income. Women can make small deposits and withdrawals whenever they want at local shops serving as NBS Bank agents; they also receive an ATM card that can be used at any NBS Bank ATM. Pafupi savings accounts also have no monthly fees.
5. Empowering women. For many women, having a savings account is her first point of access to the formal economy. With a savings account in her own name, she can plan for her future and the future of her family, protect herself in times of crisis, and even build her business with access to loans and other offerings from the bank. Chimwemwe's name means "joy" in Chichewa. As she told us when we asked how she would feel about having a savings account, "That would make us feel proud and our lives would be very happy every day."
Learn more about how a life-changing impact a simple savings account can have for millions of low-income girls
Women's World Banking is a partner of Cisco CSR. Cisco sponsors The Huffington Post's ImpactX section.
Link: http://www.huffingtonpost.com/jennifer-mcdonald/how-innovative-savings-ac_b_6213194.html