By MI-BOSPO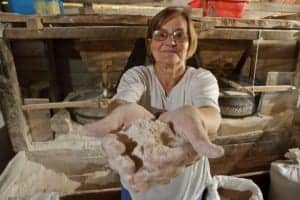 Before the Bosnian war, Mirjana Parhomov  was a safety engineer living quietly in the town of Bijeljina, Bosnia. During the war's aftermath however, she was one of many who were left without a job, an income and a home.
"It"s hard when you are left without a home and a job," Mirjana said. "It seems to me that my job loss was harder on me than losing the house. Old people say, a hardworking man can start from scratch and make something of it three times in one lifetime. But, I say, a hardworking woman can start from scratch and make something of it five times in one lifetime!"
In 2003, Mirjana took her first loan from MI-BOSPO to start a business. Her idea was to re-start her father"s former enterprise—a water mill—and use it to produce flour. The income she received from the business helped her family survive a difficult period.
"They tell me that this is a man"s job. It is difficult, but it is not a man"s job," Mirjana told her loan officer. "I was penniless but with the idea. I wanted to run the mill!"
After repaying the first loan and seeing how her business has strengthened, Mirjana knew she wanted to make it even better. She realized that she needed to invest even more in her business if she wanted to expand her offering. She wanted to introduce new products such as buckwheat, barley and rye. Mirjana is currently in the eighth loan cycle with MI-BOSPO. She is using 1500 BAM (US$976), which was invested in corn planting, from which she will produce healthy corn flour and other corn flour products. "As a wife and a mother, I thought, healthy food is the future."
When she is not working at the mill, Mirjana goes around to nearby restaurants and offers her products. Today, Mirjana produces many products from different types of flour, satisfying the various needs of her customers.
"I came to MI – BOSPO for a loan. It was a small amount to start with. And, so I started. Little by little, I now have elaborated job and everybody knows about my mill and me. I have regular customers. I managed to reach the business volume and revenue so that I can hire an employee. That is my success. I am glad that I was able to hire someone else. I am still a client of MI-BOSPO. I like to work with them. I started with them. They are my support."
Her story describes the impact of empowering low-income women with financial access: with just an idea borne of a need combined with hard work and the opportunity of a loan, a profitable business is created, generating employment for the community is well. MI-BOSPO is proud of its clients like Mirjana and their success.