This post is provided by the Better than Cash Alliance, United Nations Capital Development Fund (UNCDF), in support of the Making Finance Work for Women Summit's Ask the Experts session "Driving the Potential of Digitized Wages" in which Marjo Chaintreau, Private Sector Digital Innovation Lead, Better Than Cash Alliance UNCDF, served as a panelist.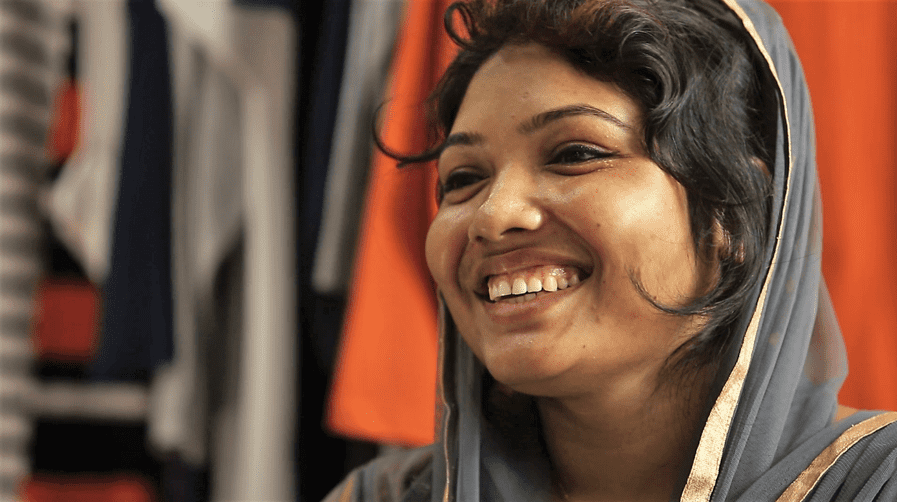 In March, when we announced the taka 5000 crore stimulus package (about $600 million) to pay workers' salaries in export-oriented sectors, particularly ready-made garments which account for over 80% of the country's exports, we encountered a major roadblock. Only 1.5 million of the 4 million workers were paid digitally. The rest were paid in cash.
To ensure that the money reaches the rightful recipients, we made it mandatory for the factories to submit mobile account details of factory workers. In just 25 days, 2.5 million accounts were opened through mobile financial services.
This massive shift from analog to digital was possible because of three enabling factors: one, the comprehensive digital payment architecture developed by the government's flagship digital transformation program a2i and adopted by a large number of public and private sector financial service providers; two, the e-KYC regulation recently passed by Bangladesh Bank that supported bulk account creation by linking with consumers' biometrically verified National IDs; and three, the strong commitment to digitize wages made at the Digital Wages Summit in November 2019 by the Bangladesh Garment Manufacturers and Exporters Association and brands like Gap, M&S, Inditex, H&M who are members of the United Nations-based Better Than Cash Alliance.
No doubt the accelerated scale-up of digital payment accounts is good news. However, only opening accounts will not lead to mass adoption in the long run. In a post-COVID world, we might see them dropping as fast as they were opened.
The important agenda of responsible digital payments
True adoption and continued use of digital accounts will come with ease of use, digital literacy, and merchants and services that accept mobile money payments.
For example, Lucky, a garment factory worker, noticed that when several factories started paying workers through MFS accounts, most of the merchants in Jamai Bazaar area started accepting mobile money. She does not need cash for household purchases, feels safe on wage day, and is able to save and remit money to her family living outside Dhaka. During COVID19, the aspect of safety has taken a broader dimension. Digital payments cut contact and enable physical distancing. The factory that she works with is part of HERfinance program, managed by Business for Social Responsibility, and developed in partnership with the Bill & Melinda Gates Foundation. The program works to digitize worker payroll with suppliers in Bangladesh.
Following the commitments made at the Digital Wages Summit in November 2019, the Better Than Cash Alliance and we created capacities in an existing helpline to support first time users of digital payments. The key motivation was to create trust and put in place a grievance mechanism for first time users – important elements of the Alliance's responsible digital payment guidelines. We are trying to make these services available to the new subscribers of mobile financial services who have or will be receiving their salaries.
Ultimate interoperability
Apart from digital literacy, helplines, data privacy, choice of service providers, and grievance mechanisms, we are working on ultimate interoperability for all payments whether through MFS, banks, or non-bank financial institutions. This means that different payment platforms can interact seamlessly, enabling users to make electronic payments with any other user in a convenient, affordable, fast, and secure way. So, if Lucky were to use an MFS account by 'X' service provider, and the store she buys grocery from uses 'Y' service provider which is a bank or another MFS, she can still make a payment, or receive one, without incurring an exorbitant fee. This interoperability melts away one of the biggest barriers of large adoption of digital payments in society – prohibitive cost.
Inclusive digital solutions, beyond payments
Our garments workers, who have clothed the world and propelled Bangladesh to the middle-income economy mark, are staring at uncertainties and job losses.
Some of them may start their own micro and small businesses. They will mostly be first-time entrepreneurs without credit history and capital. We are working on a range of digital solutions to provide quick credit to them, under certain parameters, by aggregating top-up and call data from telecommunications companies, money transfer data from MFS providers, transaction fee data from government agencies – wherever they left a digital footprint for any kind of financial transaction. We are very cognizant of the fact that customer data privacy and confidentiality must be ensured, and for that, we are exploring the necessary policy and legal architecture in the country. To enable innovation and not to straitjacket any possibility of it.
One innovation that was piloted during the pandemic was the country's first crowdfunding platform EkDesh (which means One Country). The design was inspired by the question "if you can top-up your mobile by 10 cents, why can't you donate 10 cents towards a national cause?" EkDesh attracted micro-donors wanting to contribute to the country's colossal effort to support the 'new poor' who did not exist in the government's social safety net databases but lived on daily wages – rickshaw pullers, vegetable sellers, construction workers, among many other occupations. We were astounded to find that EkDesh enabled donations from 10 cents. 80% of the donations were under $10 each.
We are now in the process of repurposing EkDesh to attract micro-investments for SMEs, perhaps started by the garment workers who lost their jobs.
Building for the future
In the era of physical distancing, a simple MFS account can help the vulnerable receive wages, relief, and credit. Safely! To build back better, we need to ensure interoperable architecture, reduce fees, and move them up the digital value chain towards digital savings and insurance so they can secure their future.
The vision of Digital Bangladesh 2021 drives us to eradicate divides in access, capacity, and literacy by leveraging new technologies and sometimes using old technologies in novel ways. We are working towards that vision, so no one is left behind.
Anir Chowdhury is a US techpreneur turned Bangladeshi govpreneur serving as the Policy Advisor of a2i in ICT Division and Cabinet Division supported by UNDP.