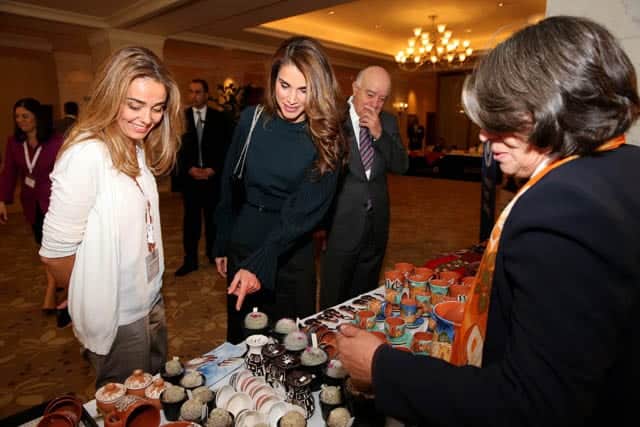 Her Majesty Queen Rania Al Abdullah attended Women's World Banking's Building Women-Focused Finance: Middle East and North Africa Conference in Amman, Jordan.

Queen Rania attends global conference to build women-focused finance
by JT
AMMAN — Her Majesty Queen Rania on Tuesday attended a global conference that aims to promote financial inclusion for low-income women.
Titled "Building Women-Focused Finance: The Global-Local Experience", the two-day conference is held by Women's World Banking (WWB) under the patronage of Her Majesty.
More than 250 microfinance practitioners, commercial bankers, investors, donors, and regulators from over 40 countries are attending the conference, hosted by Microfund for Women/Jordan (MfW), according to a statement from the Queen's office.
Participants are exploring the landscape of financial needs and services in the MENA region, which has the lowest percentage of women participating in the formal finance sector in the world, according to the World Bank. This will set the stage for a broader conversation on access to finance, particularly as it pertains to women.
Featuring global and regional experts, the sessions focus on how financial institutions can expand their market by developing a suite of products to meet the specific needs of women clients.
In addition, experts are discussing innovative approaches to reach three segments of the underserved population: youths, salaried workers and rural women.
Microfinance leaders from Lebanon, Tunisia and Pakistan are sharing their experiences of operating in crisis situations, including political instability, refugee influx and natural disasters.
Queen Rania attended a session titled, "What do women-focused products and services look like?" Panellists Anna Ginchermanr, chief product officer of WWB, Mohammed Al Lai, CEO of Al Amal Microfinance Bank in Yemen, and Ms Dolores M. Torres, president and CEO of Card Bank in the Philippines took part in the session, which was moderated by Mary Ellen Iskenderian, president and CEO of WWB.
"I'm truly excited to bring these diverse voices together to share experiences and begin to close the financial inclusion gap for women," the statement quoted Iskenderian as saying.
"Women's World Banking has always drawn strength and purpose from our global network of partners. By sharing unique challenges and approaches to serving women well, we will all gain a greater understanding of what it takes for financial institutions to serve women clients while also being sustainable," she added.
Queen Rania also toured an exhibition where products made by several MfW beneficiaries were on display.
ICT Minister Azzam Sleit and MfW Chairman Ghiath Sukhtian also attended the opening session of the conference.
During the event, WWB will present the 2013 Excellence in Leadership Award to Jordan's Microfund for Women, this year's winner.
The award annually recognises a microfinance institution committed to developing women's leadership and gender diversity in order to prove that investing in women makes business sense, the statement said.
MfW, a WWB network member and local host of the conference, is being honoured for building an institution that ensures that women are well-represented in the organisation's workforce, leadership and governance while maintaining its commitment to serve every ambitious woman.
MfW Managing Director Muna Sukhtian noted that the conference is an opportunity to exchange experiences and best practices as well as challenges and how to overcome them. She added the event will enable the fund to focus on common strengths and weaknesses so as to improve its policies and serve as many female beneficiaries as possible.
Women's World Banking is a global nonprofit organisation devoted to giving more low-income women access to the financial tools and resources essential to their security and prosperity.
"For more than 35 years we have worked with financial institutions to show them the benefit of investing in women as clients, and as leaders. We equip these institutions to meet women's needs through authoritative market research, leadership training, sustainable financial products and consumer education," the WWB website said.
Headquartered in New York, WWB works with 39 institutions in 28 countries with a reach of 14 million women to create access to finance on a greater scale than ever before.
Read the full article at The Jordan Times.
Newslink: "Queen Rania attends conference to build women-focused finance"