By Manuel Horl
Four years ago, Credit Suisse supported Women's World Banking to launch an ambitious curriculum designed to help tackle two separate, but interrelated challenges in the financial services industry: advancing women employees and serving the low-income women's market. Having wrapped the third installment of the year-long training, we're reflecting on how the Leadership & Diversity for Innovation Program (LDIP) is transforming leaders—both male and female—and institutions around the world.
When we first formed our partnership with Women's World Banking, we were excited about the prospect of building on organization's years of experience honing the training and curriculum that leaders in the financial services industry need to succeed. The LDIP program takes that experience and offers a curriculum to deliver the tools and skills women need to advance their careers to build greater diversity for the institution and enhance its ability to serve the women's market.
As partners, Credit Suisse and Women's World Banking both place a high value on learning and iterating as programs progress. So it's appropriate, as we both celebrate International Women's Day throughout this month, that we take this time to look back on how LDIP is making a difference in the lives of women leaders and clients around the world.
A better way to advance women and build a more gender-diverse institution
When designing LDIP, Women's World Banking spoke to women who had previously completed their leadership programs. Upon returning to their institutions, alumni found that they lacked support from senior leaders to realize their full leadership potential and make significant institutional changes. This insight drove a critical change in the LDIP design: requiring both a woman leader and a senior executive to support her growth. Both leaders would be undertaking a comprehensive leadership training in parallel and carrying these lessons home with them to their institution.
Women's World Banking also knew from past experience that applied learning is the best way for training to stick. That's why a capstone component was also added to the program. The senior executive and woman leader must work together on a strategic business initiative to address a real-time challenge facing their institution related to successfully serving low-income women. These challenges included growing the business responsibly, creating inclusive and gender-diverse work spaces, and using technology and alternative channels to reach women in the lowest income segment.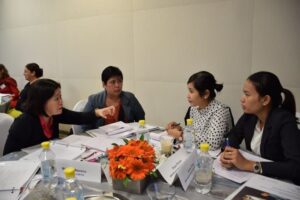 With these key shifts in program design, LDIP creates a concrete opportunity for participants to apply their learning, create a highly visible channel for the woman leader to drive change within the institution that impacts their women clients, with the clear backing of a senior leader.
Four years on, it's time to ask ourselves the important question: Are these program changes really a better way to build diverse institutions that serve low-income women?
They're both better leaders
All the executives from the 2016 program report applying skills or behaviors from the program to their leadership approach, in particular, listening.
"Skills gained have helped me to [be] more strategic and this has been cascaded downwards to the other layers of the managers [and] has helped change our organization culture to be more supportive through coaching and mentoring." – participant from KFS, Kenya
And the changes are being noticed: more than half of women leaders from the same cohort observed that their executive was better at listening, managing the team and was more supportive overall.
"[The executive participant] has started to understand my work and has shown interest in supporting my initiatives…His listening skills [have] become better. Our ability to work together has increased and his support has impacted our work." – participant from Microfund for Women, Jordan
Similarly, all of the women leaders from that cohort said they have shifted their leadership style, becoming more analytical in decision-making and employing a flexible management style that focuses on listening and empowering the team. Women leaders report solving problems better, driving innovation and connecting better with their team.
"I am fully transformed in the sense that I now fully understand my styles, competencies, Principles and values, I think strategically about my organization and my vision as a leader [and] I use different skills acquired during the program." – participant from NBS Bank, Malawi
Most all of the senior executives confirm this change: they noted that the woman leader has demonstrated more maturity, better communication, team management and ability to create new products and new ideas.
"Both [high-potential women leader participants] are more confident. They are able to express themselves more fully. They have become vocal and participative." – participant from Negros Women for Tomorrow Foundation, Philippines
Women are growing their careers
All of the women leaders in the 2015 program said they have a greater scope of responsibility since attending the program. Further, more than two-thirds of the women leaders from the class of 2016 say they are now more involved in strategically relevant work.
For instance, one participant noted she now has greater ownership in managing the budget, a greater number of projects, more team members under her management, as well as more participants in executive-level meetings.
"I feel that I have taken more of a leadership role…and am comfortable trying things out." – participant from Pro Mujer
The overt partnership with senior leaders is also paying off. Collaboration with the senior executive through coaching and mentoring has resulted in support for professional development, increased buy-in for women's business objectives, closer monitoring of results and encouragement of the woman leader to take on more responsibility.
Institutions are innovating for the low-income women's market
The capstone component has not only strengthened the relationship between the leadership pairs in the program—it has resulted in concrete efforts to improve their institution's service to women clients and build a diverse company. An institution from the 2015 program conducted two research projects to understand the financial behavior of women and how women utilize their loans, thus providing insight on how to better serve this segment. Another institution was able to increase all employees' access to training and development opportunities while another implemented a change in their hiring practices to be more inclusive.
"We strengthened our unique Women's Loan product… This product has increased the outreach for women remarkably. [In addition,] For the first time we started to hire female staff for some positions that were restricted for men only, for example branch tellers." – participant from Lead Foundation, Egypt
What's next for LDIP? Adapting the program to meet the forces of disruption
The wins in driving positive outcomes for the program alumni and the women who they serve inspire us to keep improving in our partnership with Women's World Banking, in no small measure because of the rapid changes that the financial services industry are undergoing.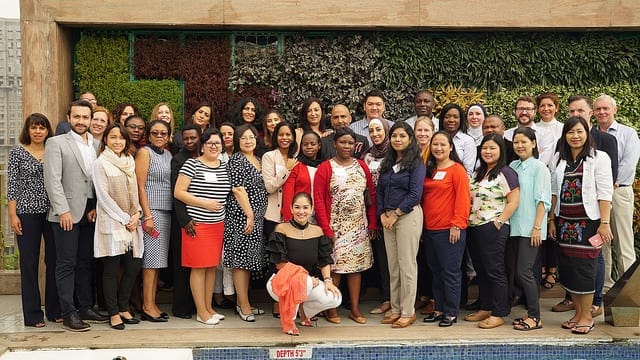 Changes in financial inclusion are coming fast and furious. Just five years ago, few people knew about FinTech—today, it is at the top of the list of risks and opportunities for every financial services CEO. Institutions need to be more agile. To do this, LDIP must double down on the focus on innovation.
In the upcoming program (slated to begin in May 2018), both participants from each institution will participate in the innovation curriculum (previous programs only included the senior executive), receiving training on Women's World Banking's proprietary women-centered design approach—combining the best of human-centered design and behavioral science with a gender lens.
We're proud to have supported a program that has already changed institutions and women's access to finance for the better. We look forward to continuing to work with Women's World Banking as they iterate and adapt the program to meet the changing needs of leaders in this industry as well as the women they serve.