During my first trip to the field, I joined our team on location in Jordan to do client research on savings-linked microinsurance for our network member Microfund for Women. Having only been with Women's World Banking less than a month, it was also my first opportunity to meet the insurance team and discuss Caregiver, Women's World Banking first product experience in microinsurance. Five years later, we returned to Jordan to investigate the possibility of extending Caregiver coverage to the client's family. Now one of the reasons I had heard of Women's World Banking prior to joining the team was its unique research methodology. What I experienced in Jordan that week in January beat any expectations I had.  Having previously worked in the microinsurance field, I was already familiar with the concept of focus groups in market research. But Women's World Banking's take on qualitative research adds a completely new dimension to what we in the business call "consumer insight".
Truly getting in touch with the people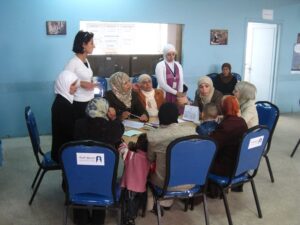 People from the West often find Arab culture quite challenging to navigate when it comes to communication. Even though I knew that I would not be able to participate in the individual interviews with women because of the tradition of strict separation between sexes, the cultural shock still hit me, even with the delay from interpretation. What was most impressive about the team was the extreme quality of the emotional connection that the team established with the participants, and this is true with both male and female groups.
So how do you create an atmosphere in which people feel comfortable enough to open up and share their views? This is where the power of empathy and active listening plays a crucial role. Groups are organized so that participants come from similar backgrounds. Widows and divorced women are more comfortable discussing their day-to-day concerns and financial challenges with women that share the same life and struggle with the same issues. Celina Kawas, manager for Research, Monitoring and Evaluation led the discussion based on the prepared guide while Hilary Nichols, senior associate for Product Development, took structured electronic notes at an incredible pace (later, all the quotes taken will be linked in a multidimensional table to reference location, day, type of participants while keeping participants' anonymity). The interpreter went back and forth between English and Arabic, Arabic and English. All of a sudden, something clicks and a discussion sparks within the group. From these ladies who do not know each other but all share the same aspirations (buying a house, marrying a son or daughter, educating their children)… the picture of the typical client emerges. They start to open up and discuss their financial strategies.
"Is anybody saving money?" Celina asks. "What are you saving for?" Many of them save in jim'ayya – a rotating group in which each member contributes a monthly set amount and each then receives the total amount once in the saving cycle (a.k.a ROSCA). This clever, informal way of savings offers group members either a loan (for the initiator) and savings (for the other members) with no deposit as money is exchanged and spent monthly.
A time for research… and also reflection
We were there to listen to low-income clients' lives in order to design and test a savings-linked product that that would fulfill their needs. At the same time, this exercise provided them with a unique opportunity to reflect on finances and money: as one participant Mahmoud* stated, "this is the first time in my life that I discuss[ed] my financial situation". Women's World Banking's in-depth customer research is the beginning of a thought process on both sides.
And what did our research find? That the financial pressure is immense and that financial responsibilities vary across genders. Women cite health costs as more of a concern that men, who in turn worry more about expenses for the family car.  We also confirmed that men are broadly in charge of the financial situation of his family. One interesting finding was that despite having a cultural tradition of deprioritizing girls' education, it is not uncommon to find men who have contracted debts to finance the education of their sisters. After a little digging, we learned that girls' education is actually considered a way to marry into a wealthier family, not necessarily to find work. It is also not uncommon for men to decide that their son should now work in the family shop rather than go to university.
As I flew back to Switzerland from Amman, I reflected on my two main takeaways for client research. First, in the corporate world, we have a tendency to listen to reply. Women's World Banking's research methodology reminded me of the main purpose of listening: to understand. Second, while I have lived in many countries for the last 20 years, it still takes courage to leave all my prejudices home and try to embrace a foreign culture from scratch, without ever making assumptions. Without have an assumption-free mind, there is little chance of creating a client-centric product… let alone a successful one.
*names have been changed for privacy