By: Women's World Banking
Oyunchimeg Dendev graduated from the College of Polytechnics in Mongolia as a light industry technician and mechanic. She got her first and only job was for the State Sewing Factory. After 16 years with the company, she decided to strike out on her own. She made her first tailored goods using her home sewing machine, and started selling the women's suits and school uniforms.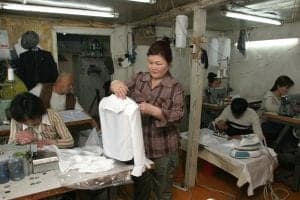 She couldn't afford rent space in the market so she sold the products through word-of-mouth. A year later, her husband joined the family business when he lost his job at the brick factory. Eventually their two older children learned to use the sewing machines and also helped their parents in the business. As the capacity increased, however, they lacked working capital to expand the business.
That's when Dendev learned about XacBank. From her first loan of around USD 200 to purchase sewing machines and electric dynamos, to multiple ones over the years that she religiously repaid, Dendev has been able to rent five market stalls to sell their product, build an extension to their house to expand their production area and purchase a vehicle to transport her goods. She has even begun to import men's shirts and ties. Her peak season profits can go up to USD 1,000 a day!
Now that both her children have graduated from university (education her business profits were able to pay for), Dendev is setting her sights on more growth for her business. And her family will be there to support her: all her children are now skilled tailors who help her in coming up with new designs for her product.
JOIN US
Celebrate 40 years of Women's World Banking
April 4, 2019
IAC Building, New York City
Purchase Tickets