On this final week of 2018, we feature the closing conversation of the Making Finance Work for Women Summit, which looks ahead to the future for women's financial inclusion.
A two-day whirlwind of panels, debates and workshops at the Making Finance Work for Women Summit ended with a thoughtful reflection of what's ahead. Women's World Banking President and CEO Mary Ellen Iskenderian sat down with the newly established Visa Foundation's Stephen Kehoe* to discuss what the future holds for women's financial inclusion.
Visa Foundation's inaugural grant of $20 million to Women's World Banking is a bet on women's financial inclusion. One of the major aspects of the upcoming partnership? "Women-centered design," combining innovative design thinking approaches with the latest in behavioral science and our insight into the women's market, informed by forty years of research and innovation.
Client-centric approaches to change behavior
Stephen noted that at Visa, there is always a discussion about how to influence behavioral change when introducing a transformative, innovative product into the market.
Mary Ellen agreed, adding that for Women's World Banking, the key to creating sustainable behavioral change is listening to the population you are working with and truly hearing what they need rather than what an organization wants to provide them.
This is key in designing financial products that bring women into the formal financial sector. Products must work with and for the population in which they are serving. This means being sensitive and understanding to the culture, context and environment in which those using the product exist. And this understanding is exactly the expertise that Women's World Banking brings to the table in this partnership.
Women's financial inclusion and entrepreneurship
In five years, when this phase of the partnership is complete, Visa hopes to have leaped forward in promoting financial inclusion. In particular, the goal to figure out the model that drives financial inclusion for women entrepreneurs. This partnership will focus on women-owned SMEs. With 80%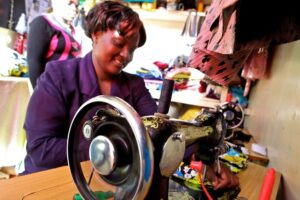 of SMEs in the informal sector being owned by women, there is an excellent opportunity to reach these women and bring them into the formal financial sector, allowing them to become financially secure and grow their businesses.
With the inaugural $20 million grant in place, both Mary Ellen and Stephen felt optimistic about the work that Women's World Banking and Visa will accomplish together. It was a long road to finalizing this partnership, with years of re-writes, conference calls and innovative thought going into the final proposal. The end result was worth it: Stephen said that it has been "magic" to unite the two organizations.
The future for financial inclusion looks bright – and with this partnership, the potential is endless.
*Stephen Kehoe has since left the Visa Foundation as of this writing.