In honor of International Youth Day 2013, Women's World Banking is highlighting its youth savings work. Today we're sharing the blogpost we wrote for microlinks back in 2012 about the youth savings product we developed in the Dominican Republic with network member Banco ADOPEM.
February 1, 2012
Ana Laura opened her first savings account at Banco ADOPEM in the Dominican Republic in April 2011. She closely monitors the money she has in her account, keeping track of the number and size of deposits she makes. Ana Laura recognizes that the bank not only provides more security than keeping her money at home, but she is also less tempted to spend it.
Ana Laura is only 13.
She lives in Las Enfermeras, a low-income neighborhood in Santo Domingo, along with her mother, three brothers and sisters, grandmother, and uncle. Ana Laura saves a little bit every day from the money her mother and grandmother give her for school, and her main savings goals are to buy a new computer and pay for college.
Unlike Ana Laura, many girls in the developing world do not have access to financial services. The accessibility of savings products and financial education programs tailored to low-income girls has significant implications for girls' economic and social empowerment. By cultivating an understanding of the importance of building saving habits and opening savings accounts which they control, girls develop skills in asset accumulation, risk management, and goal setting. With these skills, girls are better equipped to plan for the future.
Women's World Banking believes development of these skills will lead to an increased tendency among girls to pursue higher education, create businesses of their own, marry at a later age, or become property owners – all of which have broader implications for reducing poverty. According to market demand research conducted by Women's World Banking in both the Dominican Republic and in Mongolia in 2009, girls as young as 10 regularly accumulate money, actively manage it, and want a safe place to save it.
Creating the first youth savings account at a Caribbean MFI
Recognizing the potential impact of providing girls with access to financial services, Women's World Banking created a program to design and deliver savings products and financial education to girls and young women aged 7 to 24, as well as to introduce a sustainable product line for the bank. The program was rolled out in 2008 with network members Banco ADOPEM (Dominican Republic) and XacBank (Mongolia), with support from the Nike Foundation as part of the Girl Effect1, an initiative that aims to promote girls' empowerment.
Banco ADOPEM, Women's World Banking's network member institution in the Dominican Republic, is a leading and award-winning microfinance institution (MFI) with a focus on low-income women. The bank offers loans, remittances, and insurance and savings products. However, before this project, the bank did not have a savings product specifically geared toward youth.
After conducting in-depth market research and designing product prototypes, the joint Women's World Banking-Banco ADOPEM project team piloted two savings products under the name "Mía" ("Mine" in Spanish) in several pilot branches. These products were segmented by age and offered to both girls and boys, with differentiation in marketing but not in product attributes. The bank made a business decision to broaden the offer beyond just girls in order to make the product more inclusive, thus helping to ensure the long-term sustainability of the product.
A financial education program was also rolled out through schools in early 2010. And by the end of 2011, the bank had launched the product in all of its branches across the country. The Mía products are the first savings accounts targeting youth offered by a Caribbean MFI. The Mía accounts have a low initial deposit amount, few requirements to open, and no additional charges as long as a transaction is made at least once every six months.
Mía product design
Younger Mía Product
Older Mía Product
Age
7-15 years
16-24 years
Minimum opening balance
DOP 100 (US$2.50)
DOP 200 (US$5)
Minimum ongoing balance
DOP 25 (US$0.63) DOP 25 (US$0.63)
Fees
DOP 10 (US$0.25)/month after 6 consecutive months of inactivity
Requirements to open account
Guardian with ID
Own ID
Mía customers include youth (under age 16) who cannot legally own their own accounts and require at least one adult to act as the "sponsor" for the account.
Marketing to youth
ADOPEM created various colorful, age- and gender-appropriate passbooks; incentive structures; and targeted marketing materials with the tagline, "Ahorrar te hace grande" ("Savings makes you grown up"). Upon opening an account, each account holder is presented with a passbook, a savings can (or "alcancía," similar to a piggybank), and a mini saving plan template.
Financial education
Women's World Banking and Banco ADOPEM partnered with Microfinance Opportunities to design a stand-alone financial education curriculum, and the financial education program has been implemented and managed by ADOPEM NGO. At the start of the program, Banco ADOPEM and the ADOPEM NGO approached several schools in Santo Domingo and agreed that certain school teachers would deliver the 2-session curriculum, which covers savings, goals, banking, and money management, to groups of approximately 25 girls as an after-school activity. ADOPEM NGO has reinforced the concepts taught in these sessions through follow-up, interactive Jeopardy-like games, which are facilitated by the girls themselves under supervision from the teachers.
During account opening, Banco ADOPEM is also currently piloting the introduction of savings plans which account holders are meant to follow and complete over time. This approach to financial education during transaction touch points motivates account holders to reach their savings goals.
Results and lessons learned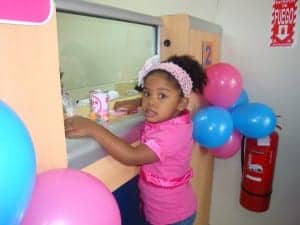 As of December 2011, more than 10,000 girls and boys have opened Mía accounts. Approximately 30 percent, on average, have had account activity in the last 3 months, and more than 5,000 students have received financial education. As shown by these positive results, the Mía product has become an integral part of Banco ADOPEM's product offering, and youth have become a legitimate client segment for the bank.
Mía's success, however, was preceded by different challenges, including: ensuring financial investment and commitment to a product with a longer-term profitability horizon than other deposit products; aligning parents and other cohorts around the benefits of the program for youth; maintaining client momentum around the product beyond account opening, so that youth frequently use the account and build savings over time; and, finding cost-effective delivery models for financial education.
As a result, during the pilot and roll out of Mía, Women's World Banking and Banco ADOPEM learned the following valuable lessons, which should be considered when launching youth products at other financial institutions:
Obtain the commitment of the financial institution's leadership to ensure that youth savings is prioritized as part of the financial institution's core product offering.
Integrate youth savings into the financial institution's operations and staff training procedures to further promote its long-term sustainability.
Offer the product to both girls and boys to better institutionalize the overall client segment.
Encourage ongoing account activity so that youth develop savings habits and build assets, contributing to greater empowerment and financial security in the long term. Encourage this behavior through ongoing marketing, incentive schemes, financial education, and increased access to bank branches.
Promote youth ownership and control of accounts even if parents legally own them.
Develop youth-friendly marketing materials that differentiate these products.
Deliver financial education content through a variety of integrated channels to reinforce messages over time and promote long-term behavioral change.
Savings for the future
Similar to adults, girls want a choice of products, accounts that are easy to open and use, and a branch that is accessible. Women's World Banking has been able to demonstrate the lifetime value for MFIs and banks to target the youth segment. In addition to Banco ADOPEM, several other network members have already launched youth savings products, such as PEACE MFI S.COin Ethiopia. Additional network members have also expressed an interest in expanding their product portfolio to include savings for girls.
Ana Laura has already made two deposits to her account and is still thinking about her dreams of going to university. And as Esperanza, a 14-year-old Mía account holder puts it, "having a dream is important for saving – you can't reach your dreams without money, and to have money you need to save."
This post is part of a Youth Savings series Women's World Banking is publishing in honor of International Youth Day 2013.
Other posts in this series:
Celebrating International Youth Day with a look at Youth Savings Programs, August 12, 2013
What do girls want?, August 13, 2013