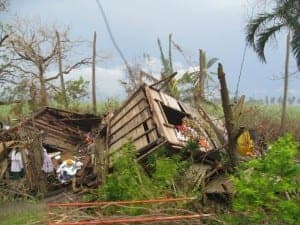 Women's World Banking network member Negros Women for Tomorrow Foundation (NWTF) was founded in time of crisis in the Philippines 29 years ago. The country was experiencing an economic downturn when a severe drought hit the Negros region, causing a rare famine. Decades later, NWTF has seen its clients through countless typhoons (an average of 22 per year in the Philippines) and other natural disasters, experiences that proved invaluable when Typhoon Haiyan (known in the Philippines as Yolanda) hit in November.
NWTF has operations in four of the five areas where Haiyan made landfall. The first site was Guiuan where water levels exceeded three stories. In Guiuian NWTF provides group loans to more than 200 textile weavers who supply international brands like Nordstrom and Tommy Bahama. When NWTF staff checked in with their clients immediately after the storm passed, they reported $500,000 in purchase orders destroyed – this on top of most clients losing their homes and many losing loved ones.
Tacloban, where NTWF has five branches and nearly 15,000 clients, was hit even harder than Guiuian. Here, NWTF lost 90 clients who fell victim to the storm and almost 100 percent of clients lost their homes. According to the government, over 12 million people across the Philippines was affected by Haiyan, with roughly 6,000 reported dead, 27,000 injured and nearly 2,000 still missing. After the storm passed, NWTF sprang into action, first accounting for the members of their 1,100-person staff in the hardest-hit areas and securing their transport to safety. Tragically, one staff member was killed along with her family after the storm destroyed their home. NWTF provided assistance such as psychological counselling after securing staff safety, but most staff members were ready to quickly return to the storm-affected areas to assist their clients.
NWTF rapidly mobilized relief supplies, including food and water, to distribute to their clients throughout the affected areas. In some cases, they reached their clients even before the government. Logistics were difficult, especially in areas where looting became rampant, but staff and even fellow clients were eager to help each other.
"It was so nice to see the response from our clients, who offered even small cups of rice to help their neighbors. They knew that NWTF would see no contribution as too small. It showed us that our mission and vision has really seeped through in these communities," said NWTF Executive Director Dr. Cecile del Castillo.
NWTF knows that emergency loans are just as important as food and water in the coming weeks, so they developed a suite of services for clients. First, immediate moratoria on loan repayments ranging from one week to the end of the year were offered depending on the level of damage. The staff worked clients hardest hit on a case by case basis. Second, NWTF created emergency products such as special loans for business reconstruction, bridge loans to carry clients over during the emergency, green loans for supplies such as solar lamps, and restructuring for existing loans that can no longer be carried out as originally intended.
NWTF also understands the value of community in a crisis. They are holding more frequent "center meetings" at each branch, so clients can share their concerns, report their income status, offer support to each other and check in frequently with loan officers. Ongoing emergency preparedness is always a topic at the center meetings, and training will be expanded for the future – as efficient as NWTF's response was, there are still many lessons learned for the future.
As the Christmas season approaches (a very significant holiday for the predominantly Catholic country), NWTF management will distribute toys to families at their branches – a simple gesture to show their ongoing support and signifying the continued importance of leadership in crisis.
"We want to be visible and show our clients that we are up and running, even in the crisis," said Del Castillo. "Our management team's role is to support our staff, to allow them to continue serving our clients. As managers, we were all there to greet staff when they were brought to safety after the storm, and we'll stand by them as long as it takes to rebuild."
Dr. del Castillo was joined by her colleagues Raymond Serios and Manny Margate during the presentation.