We are deeply saddened by the news of the passing of Ms. Ela Ramesh Bhatt, an iconic leader and a Founding Member of Women's World Banking. Elaben ("ben" meaning " sister"), as she was known, was a true trailblazer in advancing women's empowerment and financial inclusion – first in India, and ultimately around the world.
During her time as a teacher and a lawyer early in her career in Ahmedabad, Elaben realized that self-employed women were routinely denied many of the rights that she saw men exercising to develop their livelihoods. After working with a broad range of low-income women across Ahmedabad to help them secure fair wages and build pathways out of poverty, Elaben formed the Self Employed Women's Association (SEWA) in 1972, an iconic organization that has worked for 50 years to help women access the financial tools and resources they deserve to build more secure, prosperous, and fulfilling lives. Together with other luminaries including Michaela Walsh, Esther Ocloo and Mary Okelo, Elaben went on to serve as a Founding Member of Women's World Banking from its creation in 1979, serving as its Board Chair and then as an Honorary Member of the Board for Life.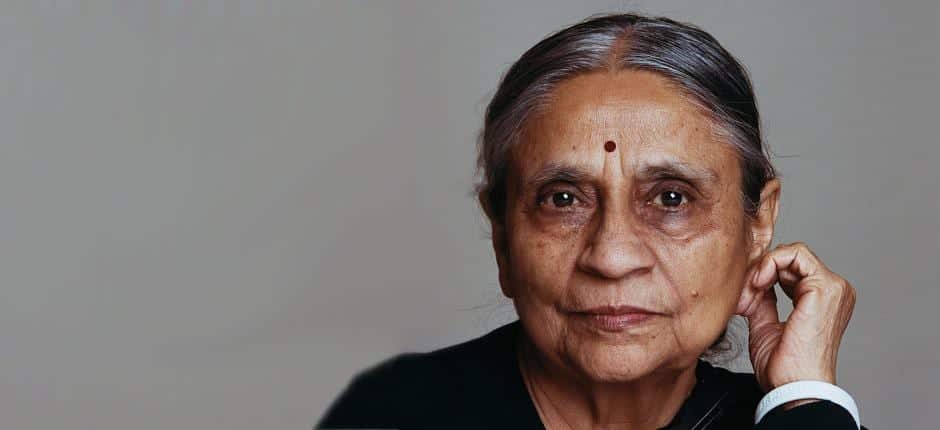 Elaben's vision and leadership in the field of women's empowerment and poverty alleviation is justly renowned. Among other prestigious recognitions, she was honored with the Ramon Magsasay Award for Community Leadership ; the Padma Shri and Padma Bhushan awards by the Government of India; the Four Freedoms Award by the Government of the Netherlands; the Niwano Peace Prize; the Radcliffe Medal; the Indira Gandhi Prize for Peace; and honorary doctorates from Harvard University, Georgetown University, and Brussels University. Elaben was a member of the Indian Parliament (and the first female member of its Planning Commission); of the Board of the Reserve Bank of India; and of The Elders, the group of world leaders convened by Nelson Mandela to address some of the world's most intractable problems, where she focused particularly on issues of equality for women and girls.
Though Elaben stands as a true legend in the fields of women's empowerment and financial inclusion, she was known by her admirers in Women's World Banking and beyond as an exceptionally compassionate leader. As many have noted, Elaben was aptly referred to as the "Gentle Revolutionary" for her distinctive blend of humility and boldness; despite her personal modesty, she was a true force of nature in advancing a more prosperous and equitable world for women everywhere.
There are 14 million more financially included and empowered women in the world today since Elaben founded Women's World Banking. We mourn Elaben's passing together with the many other beneficiaries of her time, leadership, and wisdom. As we remember Elaben, we celebrate her incredible legacy, and look to honor her by continuing to advance Women's World Banking's mission of empowering low-income women with financial tools and resources across the world.
We invite you to remember Elaben in her own words with us by watching these remarks she shared with our Global Team the last time she visited our headquarters in New York.