On April 28, 2016 in Dar es Salaam, Tanzania, the Alliance for Financial Inclusion (AFI) hosted a high-level conference to discuss integrating policies for financial inclusion of women into national strategies. I was pleased to be part of these particularly invigorating conversations because there was so much focus on action: what can be done to further women's financial inclusion in individual countries.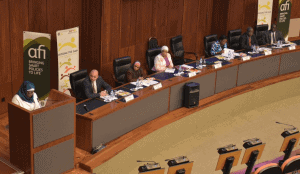 Part of the conversation was centered on the Zero Draft AFI Action Plan for Gender and Women's Financial Inclusion that will be proposed for adoption during AFI's global meeting in September 2016. During the global meeting AFI members will be asked to pledge to adopt the policies outlined in the Zero Draft. At Women's World Banking, we hope to see the same success with this initiative that AFI has had with the adoption of the Maya Declaration, a statement of commitment by central banks and financial regulators to make financial inclusion a focal point of national efforts. Currently there are 57 commitments and by last measure, 35 countries have set numeric targets, 8 of which have successfully achieved them, with results drawing kudos from the G20 and others as a vital contribution toward global economic development.
The gaps in AFI's effort to address the gender gap in financial inclusion
In today's political environment, it is refreshing to see conversations focused on action and implementation by policymakers and I felt this conference accomplished this.  I found, however, two critical issues that could be strengthened by AFI and its members as they look to drive the greatest impact by financially including not just the 1.1 billion unbanked women, but all people.   :
Gender Diversity. A comment suggesting the Zero Draft address the lack of gender diversity in central banks from Nomsa Daniels of New Faces, New Voices was spot-on. This is a real issue that must not be dismissed. If wide-scale financial inclusion of women clients is to be achieved, gender diversity needs to be implemented from within the financial institutions that are hoping to serve more female clients, as well as the Central Banks that are setting the policies. Evidence for this case lies in the numbers. Women's World Banking Network Institutions that have gender diversity at all levels (over 35% women board members, managers and staff) target more women clients and have a higher return on assets. Furthermore, The Peterson Institute for International Economics February 2016 study of almost 22,000 companies in 91 countries found that having women in the highest corporate offices is correlated with increased profitability.
The private sector. Including players from both the private and public sector in these types of action-oriented conversations ensures that we are all working together to address the issue of women's financial inclusion. Ineke Bussemaker, CEO of NMB in Tanzania, one of the few private sector players represented on the panels strongly noted that it was time for the private sector to act as well.
I commend AFI for their unwavering pursuit of their mission and I look forward to their future achievements. I am in full agreement with my fellow roundtable attendees: enough talk. It is time to act on women's financial inclusion. The energizing conversation of this conference has me eagerly anticipating AFI's Global Policy Forum in Fiji where we will continue to learn how best to act. Women's World Banking will be there to continue advocating for women and to provide continued support AFI's members who have the opportunity to be true game-changers in achieving full financial inclusion for women.
AFI's mission is to encourage the adoption of inclusive financial policies in developing nations. They achieve this, in part, through knowledge sharing initiatives among their network of institutions who understand the importance of financial inclusion. Women's World Banking is pleased to have worked with AFI on three recent publications to drive greater knowledge of what policies can be put in place to drive greater financial inclusion for women: