In Nandita's living room in Bangalore, India, she shared her history as one of Ujjivan Financial Services Pvt. Ltd.'s earliest clients. She heard about Ujjivan from a neighbor and took her first group loan to grow her small business. Later, she told us, gesturing around the room, she took a loan to improve her home. As she spoke, another woman appeared from behind, quickly moving to her side. It was her mother, who also lives with her. Ducking behind the curtain separating the front and back room, Nandita called for a young woman to join her—her daughter. Their latest loan will help with her wedding, coming up next spring.
These three generations of women mirror how Ujjivan itself has grown and changed. Ujjivan has spent the past ten years innovating and changing to keep pace with the many needs of clients and last year, they took their biggest step yet. They are among a select group of Indian institutions given an in-principle license to become a small finance bank. This transformation will allow them to offer an even more diverse suite of products so Ujjivan can support clients like Nandita through the various phases of their life.
To succeed in this change, Ujjivan recognizes that great effort is required not only to comply with all of the new regulatory demands but to ensure that every staff member is aligned with the new vision and ready to help bring it to fruition. Any change of this scale brings significant opportunity as well as challenges.
Periods of change pose particular challenges for managers. A manager cannot rely only on herself: she has to get results through and with people. This human side of management is the focus of Women's World Banking's Management Development Program. Our team has been delivering this program worldwide since 2006 to help managers further their skills in getting staff commitment to goals, coaching staff to succeed, conducting fair appraisals and motivating their teams.
Over the last few years, we have started offering the program to financial institutions that are introducing new financial products to better serve their low-income women clients. This has given us the unique opportunity to customize the curriculum to best suit the "just in time" needs of our partners—which is precisely what we did when preparing to deliver the program with Ujjivan. In consultation with senior management and HR, we added a dedicated module on change management.
Manager in the middle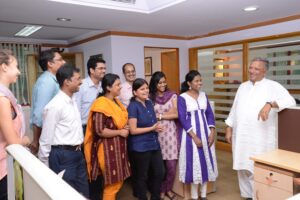 Our work with the managers at Ujjivan revealed that the Chief Executive Officer and Managing Director Samit Ghosh, along with his senior management team, have a very clear vision for the organization's future. Mr. Ghosh is an inspiring and decisive leader who believes in empowering his people. His mission is clear, and his team members are good at communicating that vision. We also learned that Ujjivan excels at celebrating its successes. This will go a long way in keeping staff engaged as milestones are met along the change process.
Middle managers in any organization have a challenging role to play, one that is pivotal precisely because they are the connection between senior management and the majority of staff. They must take the vision set by senior management and translate it into practice, ensuring that it cascades all the way down throughout the organization. At the same time, they are positioned to be in tune with what people lower down in the organization are experiencing making them essential for keeping senior management aware of any issues or innovations coming from below. Overall, it is their immediate responsibility to bring their teams along and manage Ujjivan's transformation top down and bottom up.
A training to manage transition
The essence of the Management Development Program is to help leaders understand what drives them, and what it takes for staff members to perform to their highest potential. During the customized module on change management, we talked about change as a human and sometimes emotional process.
We looked at the phases of change, which are similar to the Kubler-Ross stages of grief.  When faced with a change, people may experience denial, resistance, exploration (testing new ways of doing things in the new paradigm), and ultimately, recommitment to new objectives.
Our team worked with a group of 23 managers to help them identify where various members of their teams might be in that cycle and how reactions can shift, quickly for some and more slowly for others, throughout the change process. We focused on what managers can do to help move each person along through the phases, and to make sure each team member has the skills and enthusiasm to keep the momentum going.
An ongoing process
As we worked through the module, we saw light bulbs going off about what managers were hearing from their teams, and how they could interpret those reactions. While their team members recognize this organizational transformation as a positive change and the opportunities it brings, it is not unusual for them to think about personal implications: What will this change mean for me?
Likewise, since change is not a linear process, as people begin to move forward through the phases, new elements of the change are introduced; this could mean a temporary return to a previous phase. For managers, having an awareness of their own reactions when confronted with a change and knowing how to guide their team members, no matter what phase of the curve they may be experiencing, is the key.
While at Ujjivan, we saw a significant amount of excitement about what is to come. One manager said that he had joined because of the mission of serving low-income women in the community and he believed becoming a bank would only strengthen the organization's ability to continue doing so in the future. We left Ujjivan feeling inspired by the clients and staff we met and confident that the organization has the vision and commitment to meet their goals over the coming year and for future generations.