Women around the world are less likely to own fixed assets than men. They are also are less likely to access credit for their businesses, resulting in an often cited $17 billion credit gender gap among entrepreneurs. And when they do get credit, they are given smaller loans than their male counterparts on average. In Mexico, 37 percent of the workforce either leads or works for a micro, small, or medium-sized business, and half of microenterprises are women-owned or women-led. Women are also less likely to operate in the formal financial sector, with lower rates of bank account ownership and credit access. 
For women entrepreneurs in emerging markets, movable collateral registries could mean the difference between business growth and stagnation. Movable collateral is a category of non-fixed assets like equipment, machinery, and inventory that do not typically come with a nationally registered certification of ownership. Following international best practices, in 2009 the government of Mexico set up a movable collateral registry, the Unique Registry of Guarantees (RUG), to enable new kinds of collateral on which to lend.
While initially the RUG received seven times the number of registrations as the legacy system it displaced, over time participation in and enthusiasm for the registry has decreased. This system has not been the catalytic force it had hoped to be. Women's World Banking set out in early 2021 to understand why, with implications for how the system might be improved. Using a literature review, publicly available data, our own experience registering our own property on the system, and interviews with twelve experts and financial services providers, we created a set of recommendations for regulators and policymakers on how the system might be improved. Our resulting insight note, "Movable Collateral in Mexico: Challenges and Opportunities," describes these findings and recommendations.
The RUG does a number of things well. First, it creates clear rules that do not allow movable collateral to be used to underwrite multiple loans at once. Second, it provides a central location for all movable collateral registrations so that financial institutions can check proposed collateral against a central database. Finally, it creates a structure under which banks can recover assets used as collateral in the case of default.
However, there are some critical inefficiencies in and confusion around the system that limit its effectiveness. As a free system, it has a low budget for updates or customer service, making participation in the system time consuming and expensive for banks. Confusion around the legal process within the courts system that unnecessarily stretches out the adjudication process (sometimes by years). Countrywide training of various stakeholders has been met with limited success, and key decision-makers act in silos with implications for operational effectiveness. We show these design failures and their consequences in the following figure.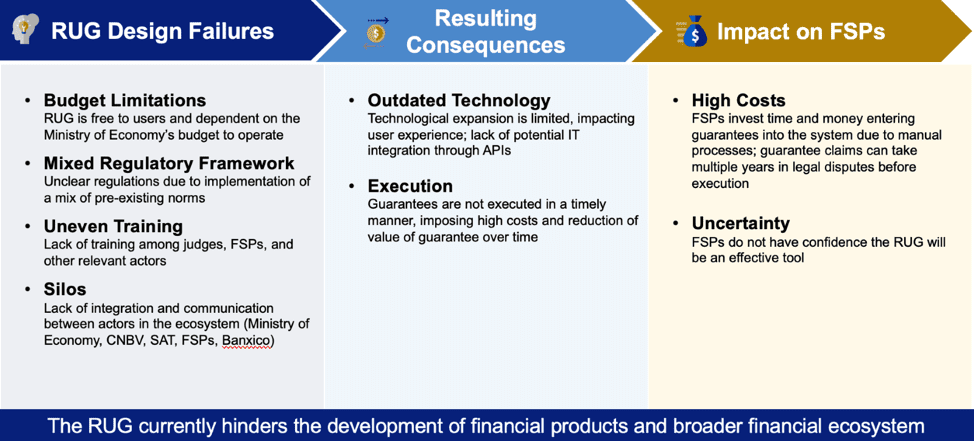 The RUG continues to show great potential, having been built on innovative international legal guidance. Mexico is well placed to lead in the area of movable collateral lending, but only if key stakeholders who manage the platform are able to address these key barriers. Women's World Banking recommends the following to improve the system:
Understand market necessities:
Analyze and conduct deep dives into the needs and constraints of FSPs that currently provide movable asset-based loans. Create a map of their user experience to have a clear vision of processes, risks, barriers, and the current situation.
Compare the movable assets clients have with the ones currently accepted by FSPs.
Adapt value proposition and execution processes to meet FSPs' financial needs to reduce risks and interest rates for their customers.
Facilitate adoption:
Create a unique legal framework and regulation in which FSPs have a clear understanding of the law, processes, and timelines so risks can be properly understood, and rights and obligations for each party clearly articulated.
Include only essential information at time of registration.
Upgrade the platform and consider backend IT or MIS integration through APIs.
Develop customer service through channels such as chatbot, phone, face-to-face, and capacity-building webinars.
Inform clients of the registration status of their guarantees through e-mail, SMS, push notifications, webpage, and account portal.
Improve communication:
Utilize relevant communication channels to promote the RUG among B2B, B2C, and P2P channels. Use the RUG's webpage, Facebook, YouTube, LinkedIn, and other alternative channels to increase user awareness and understanding.
Secure a budget:
Require a minimum fee at registration – low enough that FSPs do not pass the cost to the customer, but high enough to support the RUG's infrastructure and budgetary needs.
Execute sale of assets:
The guarantees must be accurately valued at the time of the loan by considering lower resale value and depreciation.
The process to sell the assets should be easy and fast for the FSPs. For example, in Colombia the government uses auctions that enable the FSP to collect the money in a short period.
If the guarantee has a larger value than expected, the law needs to allow a return of the surplus to the customer as a best practice to protect the clients.
Improve user experience:
Understand the barriers and bottlenecks in the process and solve for them using a continuous improvement methodology.
Establish call centers, chat boxes, and help lines to create feedback loops and cultivate customer support.
Finally, Women's World Banking intends to pursue its next inquiry into the RUG by engaging with entrepreneurs themselves to ask about their needs and preferences. With deep customer research, government stakeholders and FSPs alike can design with the real-life needs of entrepreneurs in mind. This kind of customer-centered design thinking might be especially relevant to women entrepreneurs in Mexico, who stand to gain a great deal through movable collateral registries.
We look forward to the RUG meeting its full potential.