By the Leadership & Diversity Team: Francesca Brown, Sarah Buitoni, Elizabeth Ingerfield, & Nana Ampah
On the 5th and 6th September our Leadership & Diversity Team attended the 2022 AFI Global Policy Forum in Jordan. Here the team met with our 2022 Leadership & Diversity Program for Regulators (LDR) participants and LDR Alumni from 2019-2021.
The team had two days as part of the forum to engage, connect, and hear from our LDR senior officials and high-potential women leaders.
Day 1 – 2022 Capstone Presentations 
We saw capstone presentations on proposed policy initiatives from nine teams in our 2022 LDR cohort, followed by a graduation ceremony. The following teams presented their capstones in person to an audience of their peers:
Bank Al-Maghrib, Morocco – Fadwa Jouali
Bank of Uganda – Joyce Okello
Central Bank of Egypt – Noha Omar Sayedalahl
Central Bank of Eswatini – Zandile Mabundza Simelane
Central Bank of Liberia – Erica Janie Reeves
Central Bank of Uzbekistan – Dilbar Abduganieva
National Bank of Rwanda – Soraya Hakuziyaremye, Violette Mahoro, Doreen Makumi, Frances Ihogoza, Ingrid Cyuzuzo
Superintendencia de Economía Popular y Solidaria, Ecuador (SEPS) – Jorge Moncayo
Mr. Islam, Deputy General Manager, Financial Inclusion Department from Bangladesh Bank and Bdour Al-Hayari & Tuhama Al-Nabulsi from Microfund for Women, our Jordanian Women's World Banking Network Member, joined us to congratulate our graduates and present their certificates.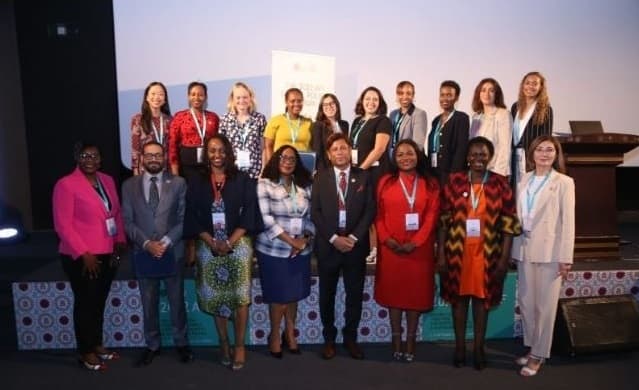 Top row, left to right: Beryl Tan (Senior Program Analyst at AFI), Frances Ihogoza, Francesca Brown, Ingrid Cyuzuzo, Sarah Buitoni, Fadwa Jouali, Doreen Makumi, Violette Mahoro, Noha Omar Sayedalahl and Elizabeth Ingerfield
 Bottom row, left to right: Audrey Hove (Gender Policy Specialist at AFI), Jorge Moncayo , Soraya Hakuziyaremye, Erica Janie Reeves, Mr. Islam, Zandile Mabundza Simelane, Joyce Okello, Dilbar Abduganieva
Common Themes & Solutions
Although our participants came from across the globe, we heard several common themes:
Challenges of access and usage of financial services for women in rural areas
The importance of savings, and the challenges and opportunities of moving women from informal mechanisms into the formal financial system
Lack of financial literacy and digital financial capability
Solutions to these shared challenges included:
Studying impediments to mobile money usage by women to better diagnose the problem and bridge the gap between access and usage
Increasing awareness of mobile money services to financially excluded rural women to reduce the gender gap
Issuing guidelines to financial service providers to offer financial education and increase credit access for women micro-entrepreneurs
Designing financial education and digital financial capability programs for women
The uncovering of shared challenges and opportunities unleashed energy for further learning and leveraging of peer experiences. This was a stimulating lead into our Alumni workshop the next day.
Day 2 – Alumni Workshop
25 participants from the 2019-2022 LDR Program convened for our first face-to-face Alumni workshop. We had a jam-packed agenda that facilitated the sharing of experiences, ideas, and challenges. We had an inspiring talk from her Excellency Serey Chea, Director General of the National Bank of Cambodia, and member of Women's World Banking's Southeast Asia Advisory Council. Dr. Chea shared her experience in advancing women-centric policy, followed by a round table discussion on the subject.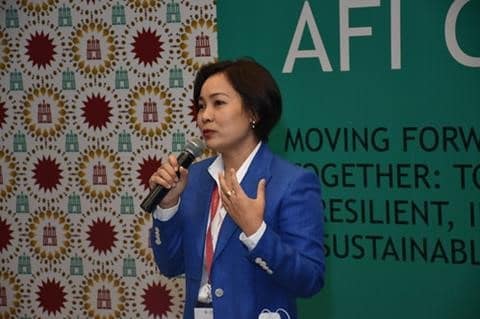 Hon. Serey Chea, DG, National Bank of Cambodia
2019-2022 Leadership & Diversity Program for Regulators Alumni and Women's World Banking team members
Our main event was taken from a brainstorm with participants on 'What are the stickiest challenges remaining for women's financial inclusion?' We identified three topics from everyone's contribution:
Cultural and Social Factors
Policy Environment
Financial Capability
We used a 'World Café' format, which uses a structured conversational style to facilitate idea sharing. Groups rotated to brainstorm and build on the last group's thoughts. In the first round, the group deepened their thinking on all the facets of 'the challenge'. They then swapped to work on solutions, and finally, switching tables one last time to drill down on the most promising solution for further refinement.


Left: LDR Alumni engaged in the World Café; Right: Sarah Buitoni leading the session
Here's some what came out of those discussions:
Financial capability: Financial literacy, education, and awareness for financial service providers and customers. To support this, there needs to be an understanding of the business case and that it's not just Corporate Social Responsibility.
Cultural and social factors: Educate banking staff on women's rights and the value of this audience as a customer. Also, add Incentives for banking staff to engage women and incentivize existing customers to encourage women to engage with financial services.
Policy environment: Incorporate a gender focus into the National Financial Inclusion Strategy and use policy KPIs to measure effectiveness, ensuring stakeholders are engaged at every step with a clear understanding of both the challenge, and the solution.
At the end of the session, we asked attendees to turn to the person next to them and share what they will do differently. One of the shared actions that prompted much discussion and agreement was:
"I will not sit in my ivory tower!"
Denoting that it's easy to make assumptions on why women are not engaging with financial products or services, and sometimes our guess might be right! However, until we take the time to go and meet the women, question, and do our research, we cannot know whether our efforts to create an inclusive policy environment are best placed.
It was an insightful two days and exciting to witness the wealth of experience, energy, and enthusiasm we have across our LDR network for women's financial inclusion.
We will soon be accepting applications for our 2023 Leadership and Diversity Program for Regulators.
Visit this page to learn about the program and how to stay up to date on the application process.