Women's World Banking Presents
Fintech Innovation Challenge
Join the only women-centered Fintech Innovation Challenge for late stage fintechs. Contribute to the technology innovation that will close the gender gap in financial services.
Join us at the Making Finance Work for Women Summit #MFWW2023 in Mumbai, India on 25 May 2023, for the Finalist Pitch Competition.
The four finalists and grand prize winner will be awarded mentorships, personalized UX design and investor consultations, membership to exclusive networks and priority access to fintech events attended by investors and partners around the world.
Invitation to pitch your solution at Women's World Banking's Fintech Innovation Challenge in May 2023 in Mumbai as part of the Making Finance Work for Women Summit
Invitation to join Women's World Banking Global Network, with one-year complementary membership
Fast tracked application to Miller Center for Social Entrepreneurship'sAccelerator at Santa Clara University focusing on women's economic empowerment and climate resilience, which features:

Access to a Silicon Valley network of 300+ mentors
An average of $750K in investments raised 3-years post-accelerator

Exclusive pitch advisory session with Women's World Banking Asset Management team
Priority access to UX design consultation with an industry expert
Invitation to attend the Making Finance Work for Women Summit in Mumbai and leverage networking opportunities with 300+ high-profile global stakeholders in financial services, fintech and financial inclusion
Priority access to key 2023 fintech-investor networking events powered by Elevandi, such as Point Zero, Elevandi Connects and/or the Singapore Fintech Festival
Invitation as a featured speaker at a Women's World Banking Making Finance Work for Women thought leadership event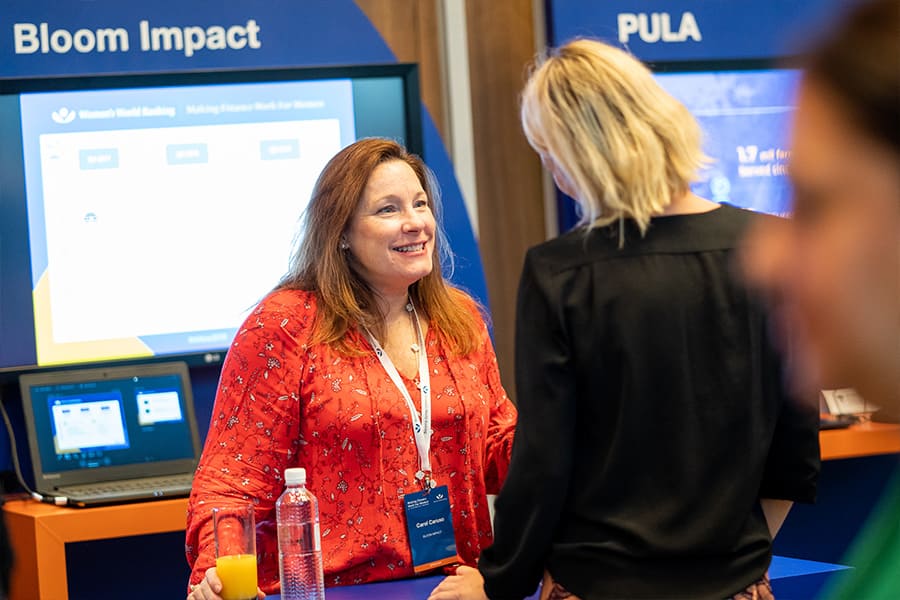 For the first time ever, we are forming the Female Founders Circle. All female-founded fintechs that make it to the Top 10 will be granted automatic membership into this premier group.
Designed to help female founders gain the exposure they deserve and elevate their profile on a much wider scale using Women's World Banking's platform, the The Female Founders Circle also serves as an avenue for women founders to exchange ideas and experiences, helping them grow their organizations even further.