Digital financial services pose the most potential in closing the financial inclusion gap around the world. As our CEO Mary Ellen Iskenderian noted, "as more financial institutions, telecommunications providers, and mobile network operators are allowing clients to perform transactions digitally, those who previously had no access to formal financial services are able to participate more easily." Low-income women in particular, can stand to benefit as these services address women's need for confidentiality, convenience, and security.
Learning exchange on behavioral design for digital financial services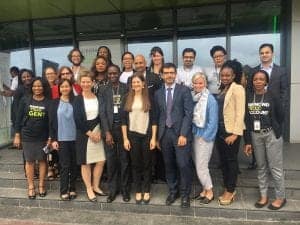 Leveraging the power of peer learning and the value of hearing from global experiences, Women's World Banking hosted a learning exchange in Lagos, Nigeria in August 2017. The three-day workshop examined best practices in developing, enhancing and delivering world-class digital financial services to women who do not have access to formal financial products.
Among the participants were BIMA Cambodia which introduced the country's first digital-only microinsurance product, Diamond Bank Plc/ MTN Nigeria which collaborated to introduce the mobile account Diamond Yello, and Jazz of Pakistan which developed the mobile money account JazzCash. Each has been working with Women's World Banking to ensure these products effectively meet the needs of the low-income target segment. Representatives from the Central Bank of Nigeria and other industry experts were also present.
Among the topics covered in the learning exchange was the use of behavioral design in creating products and services for the low-income women customers. Alex Blau, VP at the behavioral design firm ideas42, defined the work of behavioral design as "using the theories of behavioral science to design solutions to some of the world's most persistent social problems." His workshop focused on two topics: 1) defining the problem, and 2) behavioral diagnosis.
A fundamental pillar of good behavioral design: defining the problem
The first and perhaps most critical step in any behavioral design process is called "define the problem."
When you can clearly define the problem you are solving for, you are much more likely to build a solution that works. Without a clearly defined problem statement, creating solutions is a lot like throwing darts blindfolded: you can get lucky and one of the darts hit the target. More likely however, you will spend a lot of time and energy without even getting close. On the other hand, a well-defined problem statement helps you see the bullseye clearly so you can aim your solutions directly at it.
Three criteria to assess if you have a good problem statement
Defining the problem with customer behavior in mind means focusing on the end user. Alex Blau shared a formula to use for effective problem definition:
People are doing X, we want them to do Y.
Alex also shared three criteria you can use to test if you have defined the problem well in behavioral terms:
1. Focused on a specific behavior. Articulate the outcome you want to see in behavioral terms. For example, a problem statement such as, "I want to increase uptake of my savings product.", focuses on the savings product rather than the client behavior. Instead, the problem statement should focus on the savings behavior itself, without a direct link to the potential solution "Clients are not saving at the bank, and we would like them to save at the bank."
2. Free from assumptions. Let's look at a problem statement like "Clients are not using their savings account." While it looks similar to the statement above, this version assumes that this specific savings account is the right solution clients need to save at the bank. That might not be the case, and in order to be able to evaluate that, we'd like the problem statement to be free of such assumptions in order to get at the behavior you are actually trying to drive clients towards.
3. Not too narrow, not too broad. Last but not the least, the "Goldilocks" test—the problem must not be stated so generally that it isn't actionable, not giving the designers a clue for where to start solving. If it is too specific, the designers will be too limited in exploring the problem.
 But defining the problem isn't as easy as putting a bunch of smart people in a room and stating the X and Y of behaviors. Defining the problem, much like the entire behavioral design process, is iterative, and relies on effective analysis of client behavior, be it with client interviews of data analysis.  The important thing to remember is that data can drive problem definition. Not gut or trends or corporate strategy.
Re-defining the problem using data: Jazzcash's case study
To illustrate how data analysis of client behaviors can influence the problem definition, let's look at a project Women's World Banking and ideas42's is doing with JazzCash. The objective of the project is to drive women's uptake and usage of the JazzCash mobile account.  The initial problem definition JazzCash posed to us was: Women are not using JazzCash at the same rate as men; we want women to use JazzCash more.
During the Define stage, among other things, we did data analysis to map clients' behaviors.  What we found was surprising:  Once women onboarded on the JazzCash account, they used it in very similar ways to men. In effect, there was no difference between the way women and men used the JazzCash account once they had one.
The real problem we uncovered was acquisition: only 15% of new account openings were women.  So, the problem we decided to focus on was acquisition of women customers, rather than usage:
Women are not opening JazzCash accounts, and we could like them to.
With a clearly defined, data-driven problem statement, Women's World Banking, ideas42 and JazzCash are better able to design and test solutions to increase financial inclusion for low-income women in Pakistan. But not just there. Women's World Banking is applying behavioral design to our work with Diamond Bank in Nigeria, BIMA in Cambodia among others. We have also invested in building this capability internally with the creation of the Design and Innovation team.
Applying behavioral design is a critical factor towards developing digital financial services that help close the financial inclusion gap and the gender gap in financial inclusion as well. When financial service providers and organizations like Women's World Banking focus on client behavior and apply behavioral insights, we are able to more clearly see the target and design solutions that hit the bullseye.