The Leadership and Diversity Program for Regulators (LDR) is a multi-week learning program taught by Women's World Banking and Oxford University's Saïd Business School. It equips senior officials and high-potential women leaders from government ministries, central banks and regulators in emerging markets with the skills to create an enabling environment for women's financial inclusion and advance gender diverse leaders within their institutions.
In 2022, the program was delivered virtually to a cohort of 76 participants from 27 institutions in 24 countries (see Figure 1).
The issues on our leaders' minds pre-program
At the beginning of the program, our diverse group of senior executive participants—with an average of 15 years' working experience and 12 years in a position of leadership—completed a survey about what they would like to gain from the learning experience.
We asked participants to describe what they perceive as the most challenging barriers to realizing gender inclusive policy.
The following points summarise the main barriers personally identified by our 2022 cohort.
Lack of financial and digital awareness amongst women. This can limit awareness of financial services, inhibit their ability to interact with financial services and limit confidence and trust in using them.
Restrictive social norms. Social and cultural norms, as well as gender bias, can hinder the financial inclusion of women. For example, women may need the signature of a husband or male relative to engage in formal financial activities. Women are also more likely to lack the necessary identification required to access these services. Further, in some countries or geographies, women are unable to leave the house without being escorted by a male, and may not be comfortable interacting with male bank staff, restricting their financial agency.
Lack of attention on gender. Among the more common problems highlighted by participants, there is a general lack of priority placed on gender in policymaking and the design of financial products and services. Institutions may be unwilling to dedicate resources to developing gender inclusive policy, lack programs designed to address gender issues, or not appreciate that "gender neutral" approaches often unfairly disadvantage or exclude women.
An absence of knowledge and helpful products. Regulators and policymakers often have a limited understanding of the specific issues faced by women in accessing and using financial service. Gender-disaggregated data is often non-existent, and many decision makers lack tools to develop effective policies with gender in mind. In addition to lack of awareness about the importance of gender sensitive policymaking, there may also be limited knowledge around what it means to design financial services, and particularly suitable digital financial services, with women in mind.
We asked participants what priority policy interventions tailored to support women's financial inclusion they wanted to implement in the next 12 months.
Given the prohibitive barriers identified by participants, many of the priority policies identified were aimed at remedying these issues (see Figure 2).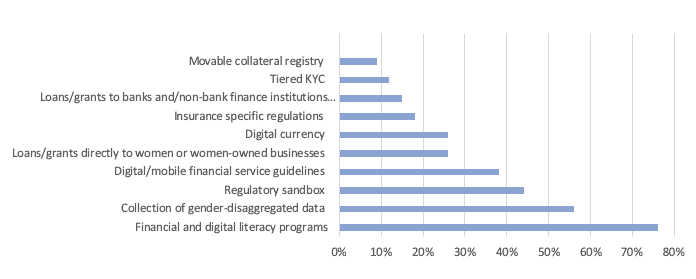 Regulators want to increase digital and financial literacy of women. Improving the digital and financial literacy of women was deemed the most pressing issue, highlighted by 76% of participants responding to the survey. The collection of gender-disaggregated data was also prominent, identified by 56% as a priority policy they were seeking to implement.
Room to experiment. 44% of respondents expressed an interest in creating a regulatory sandbox in which they could safely experiment with policy decisions. Regulatory sandboxes provide controlled environments where policy makers can observe how certain products perform and how customers respond to them. In the context of financial inclusion, policy makers may, for example, decide to use a regulatory sandbox to see whether increasing the number of female agents is effective for improving women engagement in financial services, or to test how a digital finance product tailored for women performs.
Broadening engagement with formal financial services. Another focus was on improving access and usage for women in the financial system. 38% included creating digital financial services guidelines for the industry as a priority to enable greater engagement by women with formal financial services. 12% mentioned introducing tiered know-your-customer (KYC) requirements for women and enabling alternative methods, such as movable collateral registries to underwrite loans (9%), were also amongst areas identified that could increase women engagement in the financial system. Introducing policies to empower rural women such as digitizing women's savings groups, were also a common theme raised by survey respondents.
Respondents were also asked to reflect on the key leadership skills they wanted to develop. They mentioned effective communication and public speaking, inspiring and motivating others, negotiation skills, and team building and development; all key skills that are addressed in the LDR program.
How the Leadership & Diversity Program for Regulators supports the development of policy solutions
From the pre-program survey results, we can see that LDR participants have a good understanding of the challenges facing the financial inclusion of women, as well as the kinds of policy solutions they would like to implement. The LDR program helps our participants actualize these ideas, guiding them through the various steps of policy design whilst also helping them develop the skills to drive the implementation forward. 
The Skills to Drive Policy
Skills, such as communication, decision-making, emotional intelligence, influence, to name just a few, are the human qualities and traits that machines simply can't duplicate. Sometimes referred to as "soft", these critical management and leadership skills , alongside the knowledge and technical know-how of a role, are what elevate someone from 'ok' to 'outstanding.' Mastering these skills enable cohesion, drive, collaboration, inspiration, focus, endurance and ultimately results.

Bolstering the leadership capabilities of our participants is a key focus of the LDR program. An idea for a policy may be technically excellent, but implementation requires strategy, planning and buy-in from stakeholders to ensure that it is effectively implemented.
Women's World Banking partners with Oxford University's Saïd Business School to deliver world class training on negotiation, persuasion, decision making, strategic future planning, relationship building, emotional intelligence and other skills that motivate and inspire team members and stakeholders to drive their policy forward.
This program element also focuses on the leadership journey and building confidence in the high-potential women, enabling them with the mindset to step forward and lead. This empowers high-potential women leaders to understand, communicate and demonstrate their value. In turn, they can take this learning and share it with their peers.
A Framework of Policy Design
To address the challenges identified by participants, the LDR program provides step-by-step guidance through a framework of policy design stages. From pre-formulation, formulation and design to implementation and measurement, Women's World Banking provides context, case studies, research, and introductions to different research methodologies to support the development of the policy initiative.
This framework has been developed from Women's World Banking's 40 years of extensive experience and draws from its 61 network members that operate in 34 countries and reach 136 million women.
Each step in the framework is designed to ensure that the policy solutions developed are robust, and effective.
An Action Learning Methodology
Women's World Banking uses a blended experience of virtual sessions, individual tasks, peer learning, coaching and advice, that provides exposure to subject matter experts and peers in the same field, coupled with the opportunity to put the learning straight into action to solve their challenges.
The program includes Live online sessions in which participants explore, disseminate and absorb new frameworks, ideas and ways of working. These sessions include theory, reflection, experience-sharing and individual and group exercises, run by experts from Women's World Banking and Oxford University's Said Business School.
The LDR program also stresses the importance of learning from peers. The program splits participants into small groups, providing opportunities for peer consultation and learning from each other's experience."The benefits of small-group coaching come from powerful learning interactions among leaders who aren't on the same team but are roughly equal in experience and position. By bringing people together who have no formal accountability to or interactions with each other, you can create deep learnings that wouldn't be available otherwise.

" (

Steinberg & Watkins 2021).
LDR also provides access to consultation from policy experts at Women's World Banking and our partners. Our experts have years of experience consulting different institutions around the globe and can provide unique insights into the intersection of financial inclusion and gender. This is coupled with executive coaching for senior officials, designed to improve their effectiveness as leaders and policy makers.
Looking Forward
The LDR program has run annually since 2019.  The program was virtual during COVID-19. However, for 2023 we are excited to incorporate an in-person intensive week at Oxford University's Said Business School in the UK. This will allow participants from across the globe to spend more time together, networking and forming deeper connections and alliances.
Upon completion of the program, participants receive an invitation to join the LDR Alumni Network, giving the opportunity to continue networking, learning, and collaborating. Through the network, alumni share insights, ask questions, and come together to solve challenges. They also have the opportunity to take part in:
Peer working groups
Talks from expert speakers
The latest case studies and research
The latest activity and learnings from the current LDR program cohort. ​​
Applications are currently open for the 2023 Leadership and Diversity Program for Regulators.
If you or anyone in your network could benefit from this program, share this blog or the link above. The deadline for applications is 31st January 2023.
If you have any questions, contact the Leadership and Diversity team who will be happy to assist.